Tender corn, crunchy vegetables, fresh herbs, and salty cotija cheese are tossed in a creamy, low-fat dressing. Served hot or cold, this mexican street corn salad is a twist on the classic Equites. 
One of my favorite parts of summer growing up was eating fresh corn on the cob from the local farmstead. There's something so satisfying about the juicy, sweet kernels of the summer corn. 
The recipe calls for several ears of fresh corn, charred in a pan to bring out the sweetness. You'll toss the corn with crunchy veggies, and then whip up a tangy dressing that coats the corn mixture. Spices, fresh herbs, salty Parmesan and cotija cheese round out the dish. 
This Mexican street corn salad is super easy to make, perfect for potlucks, meal prep, or gatherings. This recipe calls for the dish to be served cold, but it's just as delicious hot.
Best of all, it's low fat, high in fiber, and has no added sugar..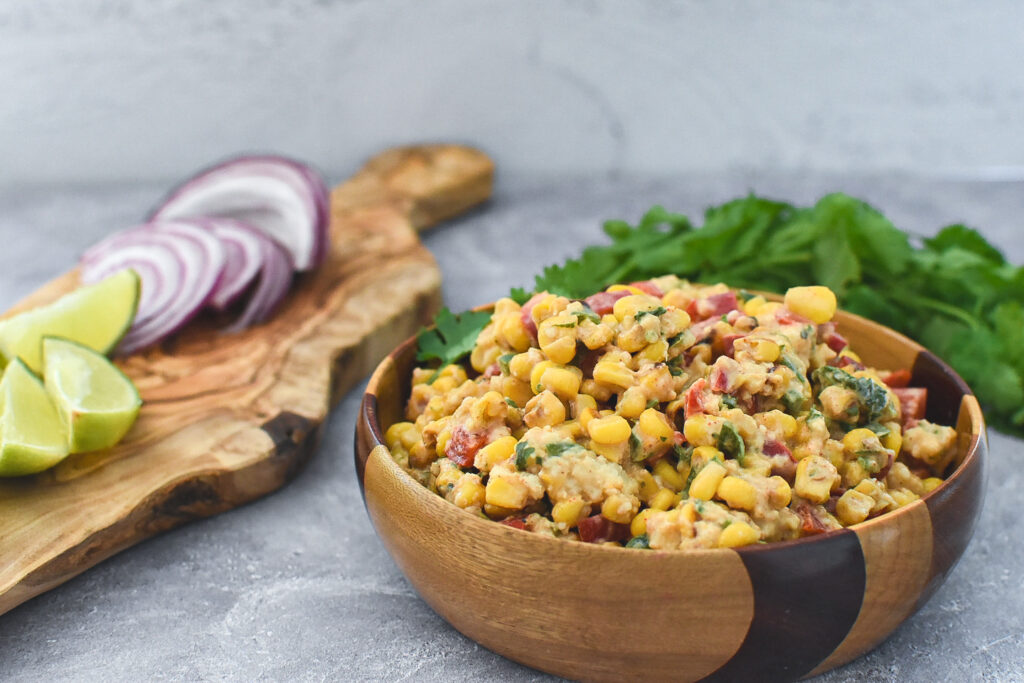 What is Mexican Street Corn Salad (Esquites): 
Equites (pronounced es-kee-tess) are a very popular Mexican street food, typically served in cups. You may be familiar with elotes, but the difference is that you eat elotes right off the cob.  
Equites is similar in flavor but has none of the mess. There are different ingredients added to equites, but the basic ingredient always includes corn kernels as the principal ingredients. 
Some variations include mayonnaise, lime, cotija cheese, chili powder and other spices. Popular toppings include jalapeños, cilantro, and scallions. 
As you'd expect, the name "Mexican Street Corn Salad," comes from the concept that the food is traditionally sold by vendors from food carts on the streets or at festivals. 
Ingredients for Mexican Street Corn Salad:
Fresh Ears of Corn: You'll need about 5 cups of fresh corn for this recipe. Typically, that's about 4 to 5 ears of corn, depending on the size. You CAN use frozen corn (I don't recommend canned – too much liquid), but don't defrost it.
Parmesan Cheese: The fresher the better. Normally, I pick the parm that's with the more fresh, specialty cheese pre-grated for ease. "Sprinkle" parmesan is ok in a pinch but not preferred. 
Cotija Cheese: You can find cotija cheese at most grocery stores in the specialty cheese section. If you can't find it, opt for quest fresco or feta cheese. 
Low-Fat Mayonnaise: A must to keep it creamy. Full fat works fine, too. 
Full-Fat Plain Greek Yogurt: I use Fake 5% plain Greek yogurt. Low-fat would work fine, but I would not use fat free. I typically buy a little 5.3 once cup for these recipes (no need to buy a big container!)
Fresh Lime Juice & Zest: Buy a couple of limes for this recipe – it's so much better than the lime juice from concentrate in a bottle! The flavor is brighter. The zest enhances the lime flavor further. 
Diamond Crystal Kosher Salt: Halve the amount if using Morton's. 
Fresh Garlic Cloves: A must to enhance the flavor of the corn. 
Butter: A few tablespoons to roast the corn to perfection. 
Spices: Cumin, smoked paprika, black pepper, and chili powder add a depth of flavor. Adjust to your liking!
Mix-In & Garnishes: Cilantro, red pepper, scallions, jalapeño, and red pepper are a few of my favorites!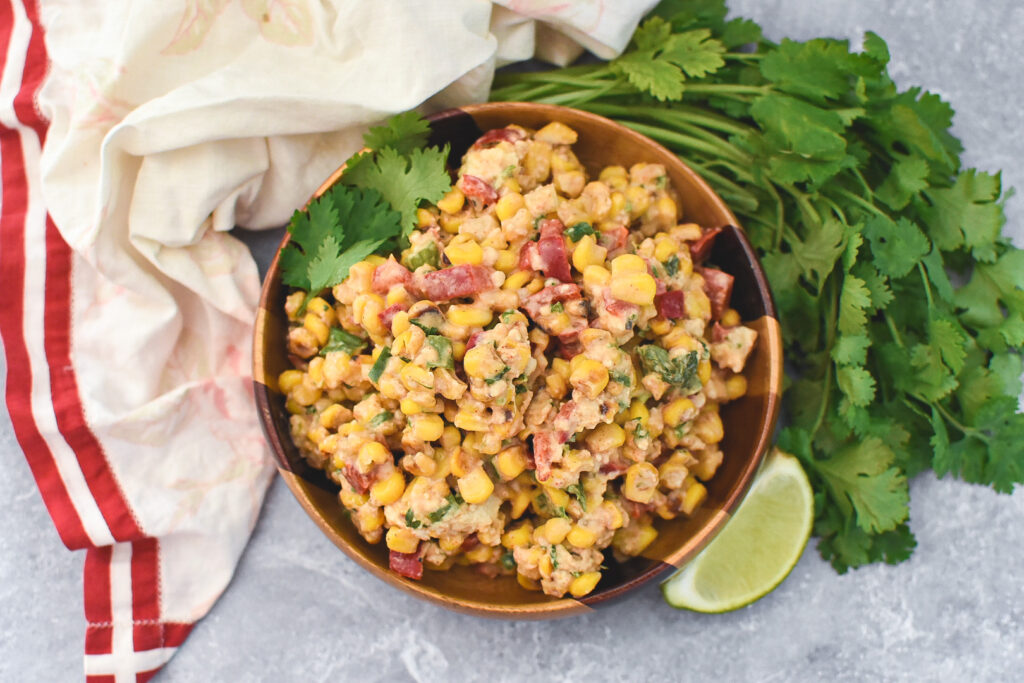 How to Make Mexican Street Corn Salad:
Once you have your ingredients prepped, this recipe comes together in no time. I always recommend prepping (chopping & measuring) ingredients prior to putting the dish together. This helps to stay organized and also makes the recipe come together quickly and with less mess. 
Cut the Corn off of the Cob: Using a large knife, cut the corn off of the

 cob. I like to leave 

large

 slabs of corn wherever 

possible

. 

Roast the Corn:

Heat up the butter in your skillet over medium-high heat. Add the minced garlic to the hot butter and stir until fragrant (about 30 seconds – be careful not to burn it). Add the corn, and allow it to cook for at least 5 minutes before stirring it to allow for some browning. Cook the corn for a total of approximately 10 to 12 minutes, until browned and charred in some areas. Toss with salt and pepper. Remove from the heat and add it to a large bowl. 

Prep The Dressing:

In a medium bowl, whisk together the Greek yogurt, mayonnaise, lime juice, lemon zest, spices, and a pinch of salt. Taste, and adjust the seasoning to your preference. Set aside. 

Toss the Salad:

Add the mix-ins (red pepper, scallions, red onion, and jalapeños) to the corn, and toss with the dressing.

Allow the Mixture to Rest:

You can eat the dish hot, but I prefer to allow it to sit in the refrigerator for a couple of hours to allow the flavors to blend.

Garnish and Serve:

Stir in the cotija cheese and garnish with cilantro. Note: wait for the dish to cool slightly before adding the cotija cheese and cilantro. 
How to Store Mexican Street Corn Salad:

 
This dish will keep for up to three days in the refrigerator in an airtight container. 

I do not recommend freezing this dish (to be fair, I haven't tried it), but I don't think you'll need to!
How to Enjoy Mexican Street Corn Salad
As a side dish

Topped with grilled chicken, shrimp, or tofu

Garnished with pickled jalapeños 

On top of fresh greens 

Inside tacos or burritos
 Did you love this recipe? Rate and review it!
Mexican Street Corn Salad
A twist on classic Mexican Street corn turned into a summer salad!
Ingredients
Roasted Corn
4-5

large ears of corn (about 5 cups),

substitute frozen (don't defrost)

2

garlic cloves,

minced

2

tablespoons

(30 g) butter

1/2

teaspoon

Diamond Crystal kosher salt,

more to taste (see notes)

1/2

teaspoon

black pepper,

more to taste
Dressing
1/2

cup

(45 g) Parmesan cheese,

grated

1/4

cup

(70 g) full fat plain Greek yogurt,

substitute sour cream

1/4

cup

(56 g) light mayonnaise,

1

tablespoon

(15 g) fresh lime juice

1

teaspoon

lime zest

1

teaspoon

cumin

1

teaspoon

chili powder,

more to taste

1

teaspoon

smoked paprika,

substitute regular

pinch of salt,

more to taste
Mix Ins
1

red pepper,

seeded and stemmed, diced

1/2

small red onion,

finely chopped

1

small jalapeño,

seeded and stemmed, finely chopped

4

scallions,

thinly sliced
Garnishes
1

cup

cilantro leaves,

roughly chopped

3

ounces

(90 grams) Cotija cheese,

(substitute feta) finely crumbled
Instructions
Prepare the Corn
Shuck the corn and cut the corn off of the cobs. If you are using frozen corn, don't defrost it (canned doesn't work well here).

In a large saucepan over medium heat, melt 2 tablespoons of butter. Add the garlic and stir for approximately 30 seconds or until fragrant .

Add the corn to the skillet, season with salt and pepper, and cook for 10 to 12 minutes, stirring occasionally. You will want the corn to char, and so avoid stirring too often. Cook more as needed if you like more of a char. Remove from the heat and transfer to a large bowl.

Prep the Dressing: In a medium bowl, stir together the mayonnaise, Greek yogurt (or sour cream), Parmesan cheese, lime juice, lime zest, smoked paprika, cumin, chili powder, and a pinch of salt.

Toss the Ingredients Together: In the large bowl, mix the corn and dressing together. Stir in the red pepper, red onion, jalapeño, and scallions. Toss to combine evenly. Taste, and add more salt, pepper, and/or chili powder to taste.

Garnish, Serve & Enjoy: Allow the corn to cool, then stir in the Cotija cheese and cilantro. Transfer to the refrigerator and serve cold. This dish tastes better if you allow it to sit for 1 to 2 hours. The salad will last for approximately 3 days in the refrigerator and stored in an airtight container.
Notes
Recipe adapted from RecipeTin Eats Mexican Corn Salad 
If you don't have Diamond Crystal kosher salt, use about a 1/4 teaspoon of table salt to start and add more as needed. Table salt is more salty than Diamond Crystal. 
You can add more or less jalapeño. Leave the seeds in if you like it really spicy! 
Fresh corn is AMAZING in this recipe, but I've also made it with frozen (in a pinch) and it's just as delicious! 
Sometimes I drizzle a bit of sriracha for extra zest.