A moist, lemon-scented vanilla coffee cake loaded with blueberries and a crumbly, sweet topping. This tender blueberry crumb cake is the perfect summer treat, but can be enjoyed year-round with help of frozen berries!
This warmly spiced, vanilla infused, blueberry cake is the answer to your question of "what should I bake this weekend?"
I love baking with fruit, especially blueberries. The best part of using blueberries in baking is that they are easy to find year-round in the freezer aisle.  I argue that we shouldn't just be making blueberry desserts in the summer! 
But if you went blueberry picking, and are looking for an easy and delicious recipe to use up some of your fruit, look no further.  There's nothing like fresh berries in baking recipes. 
This moist, blueberry crumb cake is essentially a coffee cake with some berries folded in, and then the top is LOADED with more berries. The cake is finished with a traditional crumbly, sweet topping that melts into the berries, creating a delightful crumb. 
Best of all, it's easy to make so it is perfect for a last-minute dessert or breakfast treat. 
What I love about this cake is the fact it's got a lovely, tender crumb and warm flavors. Unlike some other blueberry cakes I've had, the berries really stand out beneath the crunchy topping. 
When you make this, you'll notice that when it bakes, the crumbly topping melts into the berries as they bake and soften. 
If you like thinner bars, you can always bake this in a 9 by 13 pan, and reduce the bake time (start checking around 35 minutes for doneness). 
What's in Blueberry Crumb Cake
All purpose flour
Baking powder 
Diamond Crystal kosher salt – Be sure to use half the amount if using Morton's. 
Spices – Cardamom, cinnamon, and nutmeg. 
Butter
White sugar (for the cake) and brown sugar (for the topping) 
Lemon zest (fresh!)
Eggs and egg yolks – Additional egg yolks make the cake more rich and soft.
Vanilla extract – Use good quality vanilla extract, as it really stands out in this recipe. 
Sour cream – You may swap creme fraiche if you have it. 
Blueberries – You'll need about 12 ounces, or a pint. This is two cups. Feel free to add a bit more to the batter. Fresh or frozen work find. If you use frozen, don't defrost them before using them. However, note with frozen blueberries you may need to slightly increase the bake time. 
Tips on making the perfect Blueberry Crumb Cake
Room temperature ingredients: 

Take your eggs and dairy out of the refrigerator 30 minutes to one hour before baking, depending on the temperature of your kitchen.  This helps create a cake that's evenly baked and tender. 

Sift your dry ingredients! Sifting ensures there are no lumps, and also helps with even mixing. 
Line your pan with tin foil to make it easier to remove from the pan. Normally, we want to bake cakes with a crumb topping in a springform so it comes out easily. I like to make two handles with the tin foil so it's easy to remove. Make sure to thoroughly spray or grease the tin foil and pan. 
Beat the butter and sugar WELL. This step is often over-looked. We cream the butter and sugar to aerate the butter, which helps to add structure to the cake.  
Note: Avoid using high speeds when creaming butter and sugar. The end result should be light and fluffy!
Don't skip alternating mixing dry and wet ingredients. This process helps to ensure even mixing of the ingredients, and prevents the batter from developing too much gluten. Too much gluten development would mean the cake may become too dense. 
Use a cake tester or similar tool to test the doneness of the cake. This is a hefty cake, and so it takes a while to bake, but you don't want to risk over-baking it. Look for signs of browning around the crumb, but it shouldn't be wet in the center. The toothpick or cake tester should come out dry.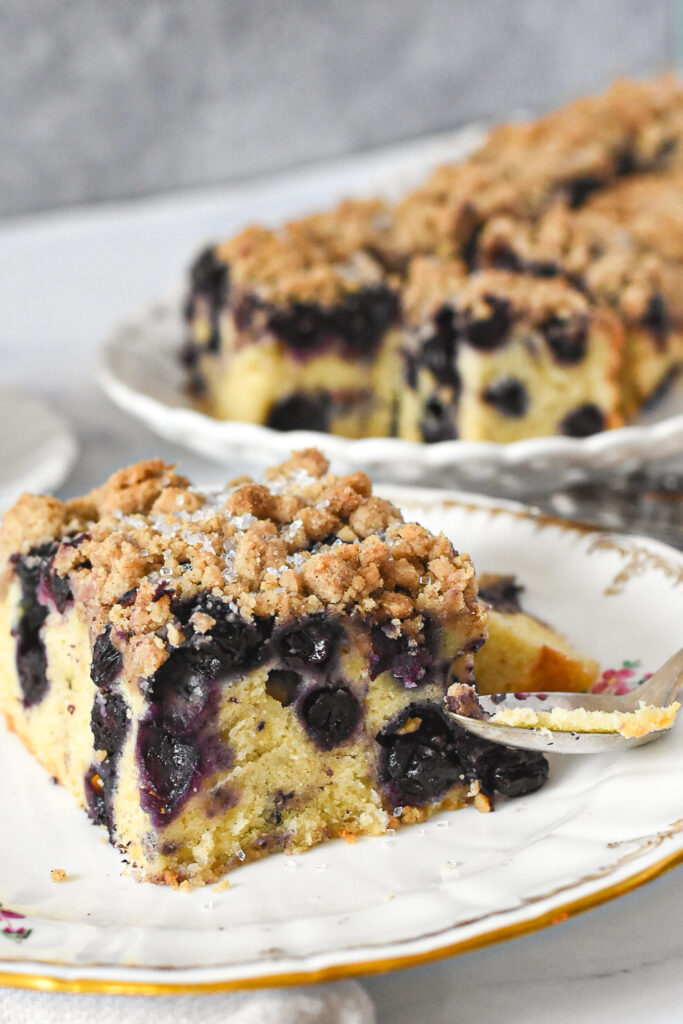 How to Store the Cake
This cake can be stored at room temperature for up to three days. 
If you refrigerate the cake, wrapped tightly in plastic wrap or in an airtight container, it will last upwards of 5 days. 
Freezing Instructions: 
Wrap the cake tightly in plastic wrap, and then again in a layer of tin foil to freeze. 
To defrost the cake, remove it from the freezer and allow it to thaw out at room temperature on the counter or in the refrigerator overnight. 
If you liked Blueberry Crumb Cake:
Healthy Wild Blueberry Buckle (something a bit lighter!)
Did you enjoy this recipe, make sure to rate it and comment!
Blueberry Crumb Cake
Moist, lemony, blueberry coffee cake and topped with blueberries, finished with a spiced crumb topping.
Equipment
8 x 8 metal pan,

or use a 9 x13-inch pan and adjust the time (see notes)

Hand mixer or stand mixer
Ingredients
Cake Batter
1 ½

cups

(188 g) all purpose flour,

spoon flour and level off (see notes)

1

teaspoon

baking powder

3/4

teaspoon

Diamond Crystal kosher salt,

use half if Morton's

1/4

teaspoon

cardamom,

substitute cinnamon or leave out

8

tablespoons

(1 stick) butter,

softened to room temperature

3/4

cup

(150 g) sugar

1

teaspoon

fresh lemon zest,

approximately half a lemon

2

large eggs,

room temperature

2

egg yolks,

room temperature (see notes)

1

teaspoon

pure vanilla extract

1/4

cup

sour cream,

room temperature (substitute buttermilk)

2

cups

(12 ounces or a pint) blueberries,

fresh or frozen
Crumb Topping
1

cup

(125 g) all-purpose flour

1/3

cup

(57 g) firmly packed brown sugar

3/4

teaspoon

cinnamon

1/4

teaspoon

nutmeg

1/4

teaspoon

cardamom,

leave out or sub extra cinnamon

1

teaspoon

fresh lemon zest,

use the other half of the lemon

6

tablespoons

(3/4 stick) butter,

melted
Instructions
For the Cake Filling
Arrange a rack in the middle of the oven and preheat it 350℉. Prepare a baking dish by lining it with tinfoil and brushing with butter.

In a medium bowl, sift together the measured flour, baking powder, cinnamon, nutmeg, cardamom, and salt. Set aside

In the bowl of a stand mixer fitted with the paddle attachment, beat the butter and sugar on medium until for approximately 5 minutes, and then add 1 teaspoon of lemon zest. Continue mixing on medium until light and fluffy (another 2 to 3 minutes depending on your mixture. The butter-sugar mixture should sit up tall and have fluffy peaks.

Decrease the speed to low and beat in the two full eggs (reserve the egg yolks for now), beating after each addition until smooth. Add the vanilla extract.

Add half of the flour and beat until just combined. Scrape down the sides of the bowl. Add the yolks and sour cream and mix until combined. Add the remaining flour mixture and mix until just combined and there are no streaks of flour. If you're using an 8 x 8 baking dish, fold in 1/2 cup of the blueberries (see notes if using a 9 x 13-baking dish).

Using a rubber spatula, give the mixture a final stir and spread it into a prepared pan. Sprinkle the remaining 1 1/2 cups of blueberries on top of the cake batter (see notes if using a 9 x 13-inch baking dish)
For the Crumb Topping
Combine the flour, sugar, cinnamon, nutmeg, cardamom and lemon zest in a bowl. Stir in the melted butter. The mixture should have medium-to large chunks remaining, but ensure the dry ingredients are all coated with butter.

Scatter the crumbs evenly on top of the blueberries.

Bake for approximately 55 minutes or until the cake is firm and the crumbs are gently browned. Insert a toothpick or cake tester to ensure it comes out clean (see notes if using a 9 x 13-inch pan).

Allow the cake to cool on a wire rack, then remove it from the pan using the tin foil as handles. Cut into 16 slices. Store at room temperature wrapped tightly in plastic wrap for up to 3 days. This cake can be frozen for up to a month if wrapped tightly in plastic wrap and tin foil.
Notes
Recipe adapted from Nick Malgieri's Blueberry Crumb Cake in Perfect Cakes. 
I recommend using a scale, but if you are using measuring cups, make sure you fluff the flour prior to spooning it into the cup. 
If you don't like or don't have cardamom, leave it out or replace it with additional cinnamon. 
If you prefer a higher ratio of cake to crumb/blueberry topping - I recommend using a 9 x 13-inch baking dish for this recipe. However, a few key adjustments you'll need to make: 1) Use an extra cup of blueberries. 2) Don't bother mixing 1/2 cup of blueberries into the batter, it will make it hard to spread. 3) Use an offset spatula to get spread the batter in the pan - it isn't a lot of batter, but it'll work. 4) Finally, adjust the bake time to approximately 40 minutes.