This healthier wild blueberry buckle is made with a combination of all-purpose flour and almond flour, keeping the cake moist for days. The cake is studded with loads of berries, and has hints of lemon and cardamom throughout. Delicious for breakfast or dessert!
I was inspired to make a blueberry buckle after watching Claire Saffitz make it on her Dessert Person Youtube channel. 
Yeah, she's a baking legend. Pretty much all of her baking videos make me want to get in the kitchen. 
I've made blueberry buckle in the past, specifically from Martha Stewart's cake book. As with many cake recipes, it's typically loaded with sugar, and so I wanted to experiment on reducing the white sugar in the recipe. 
By using a touch of almond flour in the place of AP flour, I was able to achieve a tender cake that serves well for breakfast or dessert. 
What's a Blueberry Buckle?
This blueberry buckle is dense, moist, and slightly sweet. It's a recipe that would pair phenomenal with a scoop of ice cream to complement the flavors. 
Traditional blueberry buckle is reminiscent of a coffee cake, but loaded with fruit. When it bakes, it "buckles," but remains more "cake-like" than a cobbler. 
This recipe is a bit more dense than maybe a traditional buckle because of the addition of almond flour. However, it's delicious in its own right. 
Why You Will Love Healthy Wild Blueberry Buckle
All the same reasons I love it! 
Perfect for brunch or dessert – This recipe is not very sweet, and so it could be served easily for breakfast or dessert. If you prefer it for dessert, I recommend serving it with whipped cream or ice cream. 
Complex flavor – Because we're not using as much sugar, I wanted to ensure we hit all the flavor notes by using lemon zest and cardamom. These flavors pair phenomenally with blueberries. Complex flavors doesn't mean complex recipe!
Easy to make – This is a simple, essentially fool-proof recipe. 
The cake stores well – You can make this cake a day or two in advance, store it in the refrigerator, and it remains most. 
It uses frozen blueberries – I make this recipe with a bag of Wyman's frozen blueberries. They are easy to find, and sold in most grocery stores in New England. 
Low in fat AND in sugar – There's only half a stick of butter in this recipe and around 3/4 cup sugar in the whole recipe. 
Tips on making Healthy Wild Blueberry Buckle
Room Temperature Ingredients: 

If there's one thing I know, it's to make sure your ingredients are all room temperature before you start. Take your eggs and dairy out of the refrigerator 30 minutes to one hour before baking, depending on the temperature of your kitchen.  This helps create a cake that's evenly baked and tender.

Sift your dry ingredients! Sifting ensures there are no lumps, and also helps with even mixing. If there are lumps, press them through the sieve or discard if too large

. This is especially important with almond flour. 

Beat the butter and sugar WELL. This step is often over-looked. We cream the butter and sugar to aerate the butter, which helps to add structure to the cake. When we cream the butter with the sugar, we're helping to make room for the butter to adhere to other liquids (i.e., eggs and buttermilk). 
Note: Avoid using high speeds when creaming butter and sugar. The end result should be light and fluffy!
Like a sweeter cake? The original recipe in Martha Stewart's book calls for 3/4 cup of sugar in the cake – feel free to double the sugar in this recipe to be more akin to her original! 
Don't defrost your berries ahead of time. Since I use frozen berries, I don't defrost them prior to baking. If you do, you'll end up with a cake that's purple through and through (if this bothers you!). 
This cake really bakes up so easily, and I don't think you'll miss the added sugar… 
How to Store Healthy Wild Blueberry Buckle
This cake can be stored at room temperature for up to three days. 
If you refrigerate the cake, wrapped tightly in plastic wrap or in an airtight container, it will last upwards of 5 days. 
Freezing Instructions: 
Wrap the cake tightly in plastic wrap, and then again in a layer of tin foil to freeze. 
To defrost the cake, remove it from the freezer and allow it to thaw out at room temperature on the counter or in the refrigerator overnight.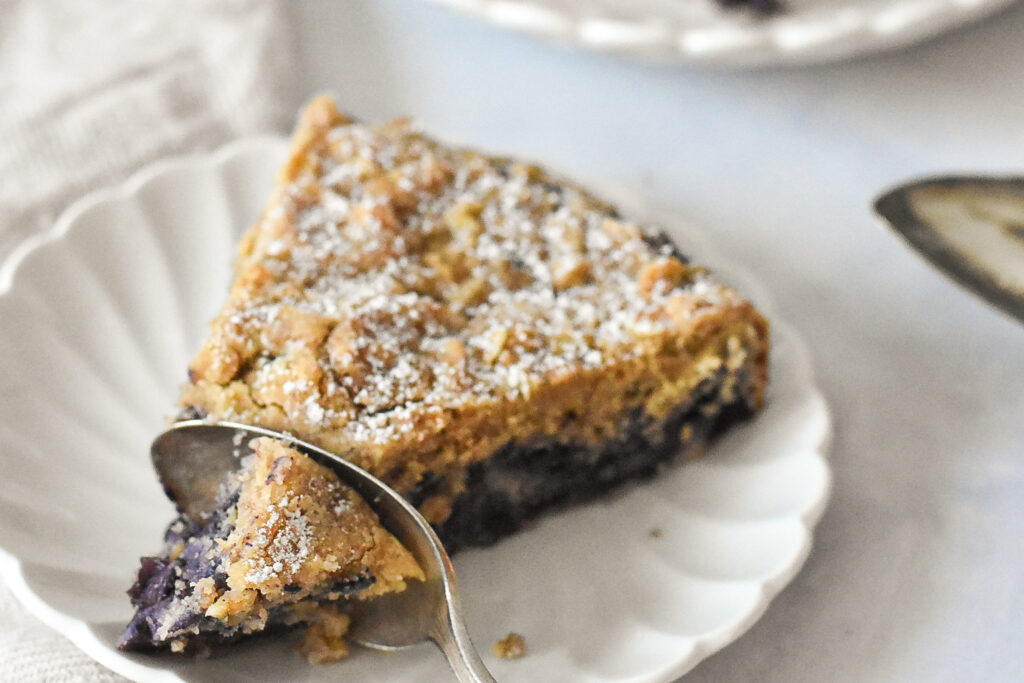 Healthy Wild Blueberry Buckle
A New England summer favorite with small, wild blueberries. Dense, moist, delicious, and full of flavor.
Equipment
1 ten-inch springform pan,

buttered and dusted with flour
Ingredients
Crumb Topping
1

teaspoon

ground cinnamon

1/8

teaspoon

cardamon

(optional)

1/2

teapoon

fresh lemon zest

1/2

teaspooon

Diamond Crystal kosher salt

3/4

cup

(90 g) all purpose flour

1/4

cup

(20 g) old fashioned rolled oats

1/4

cup

(55g) brown sugar,

packed

6

tablespoons

(85 g) unsalted butter,

room temperature
Cake
4

tablespoons

(57 g) butter,

room temperature

1 ¼

cup

(150 g) all-purpose flour

1/4

cup

(24 g) almond flour

1½

teaspoon

baking powder

1

teaspoon

Diamond Crystal kosher salt,

use half if Morton's

1/4

teaspoon

ground cardamom

1/3

cup

plus one tablespoon (80 g) sugar

1

teaspoon

lemon zest

1

large egg,

room temperature

2/3

cups

(158 ml) buttermilk,

room temperature

2

cups

(12 ounces) frozen wild blueberries

(Wymans' frozen blueberries work wonderfully!) Fresh if you have them.
Instructions
In a medium bowl, mix the flour, oats, brown sugar, cinnamon, cardamom (if using), lemon zest, and salt. Press the mixture together to assist in forming larger clumps. Place the mixture in an airtight container in the refrigerator until you are ready to use (the mixture will last for up to three days).

Preheat the oven to 350℉. Butter a 10-inch springform pan, line the bottom with parchment paper, and dust with flour. Tap any excess flour out.

In a medium bowl, sift together the all-purpose flour, almond flour, cardamom, baking soda, and salt.

Using an electric mixer, cream the butter, sugar, and 1 teaspoon lemon zest on medium speed until light and fluffy, approximately 5 to 7 minutes. Reduce the speed to low and add the egg and vanilla. Scrape down the sides of the bowl as needed.

Add the flour mixture in two batches, alternating between the milk, beginning and ending with the flour. Beat until just combined. Be careful not to over-mix. Fold in the blueberries.

Transfer the batter to the prepared pan, and sprinkle the topping over the batter evenly. Bake the cake for approximately 60 minutes, until the top is golden brown and a cake tester comes out clean.

Allow the cake to cool in the pan for approximately 10 minutes before removing it and letting it finish cooling on a wire rack. Let the cake cool for 15 minutes before cutting into it. This cake can be stored at room temperature, wrapped tightly in plastic wrap or in an airtight container, for up to three days at room temperature.
Notes
Recipe adapted from Martha Stewart's Blueberry Buckle