If you ever bought canned jalapeños, this recipe will change your life. My quick pickled jalapeños are super easy to make, require no special equipment, and are deliciously spicy and tangy.  Perfect for topping burgers, salads, bowls, tacos, and whatever else you can think of!
I've been on a bit of a quick pickling and refrigerator jam. I haven't pulled the plug on an actual canning set-up yet, and I'm a bit nervous about trying *real* canning, so I'm getting my feet wet with quick pickling food. 
Quick pickled jalapeños (aka refrigerator pickled jalapeños) have been my newest obsession this summer. They're inexpensive to make, super easy, and require minimal ingredients. 
WAY better than the jarred ones – trust me. 
Even for those who don't like a LOT of spice, you can modify the spice level by a) scraping more seeds out, and b) allowing the jalapeños to sit in the refrigerator longer, where they'll become more sweet and less spicy. 
**DISCLAIMER: I call these quick-pickled because they don't require traditional canning set-up. However, for best results you'll want to let these sit for around 24 hours, and so if you're making these in advance keep that in mind!**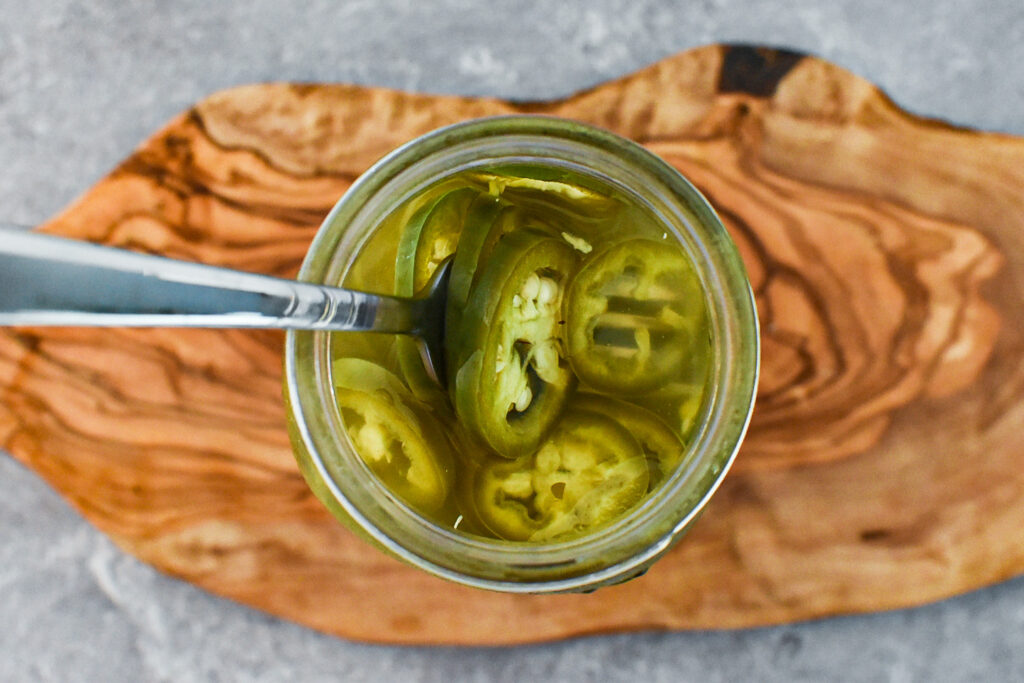 What is Quick Pickling?
Quick pickling is a method of pickling that doesn't involve canning. Essentially, you're brining fresh vegetables and storing them in the refrigerator (that's why sometimes quick pickles are referred to as "refrigerator pickles").  
You can pickle any fresh vegetable by soaking them in a brine of vinegar, salt, spice, and sometimes sugar. Although the flavor may not be as deep as a fermented pickling recipe, it's a super easy method that requires no canning.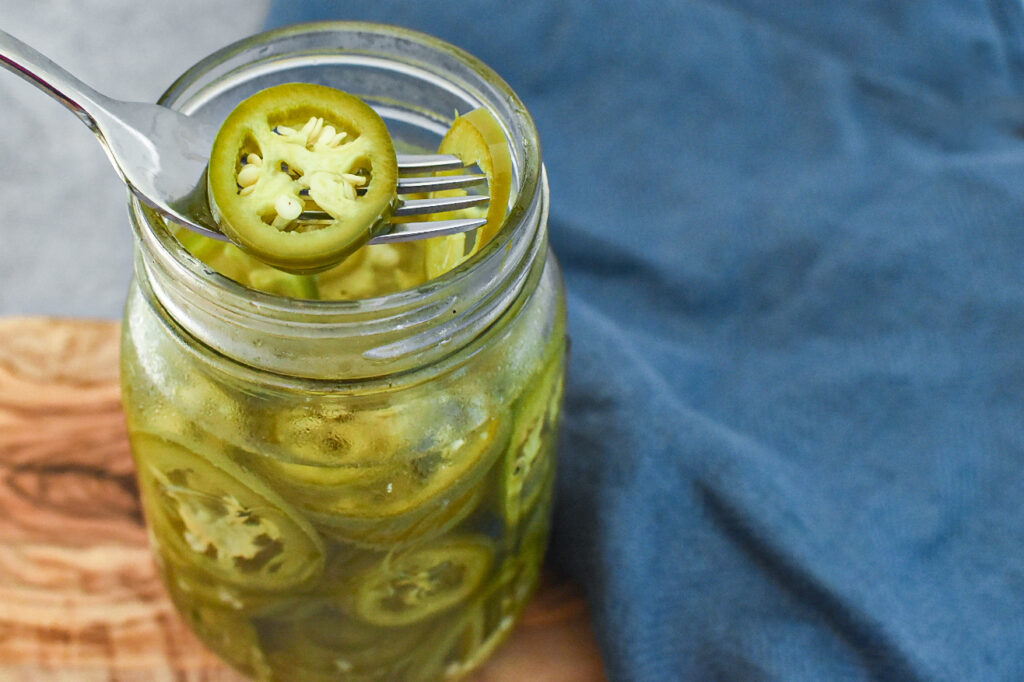 How to Make Quick Pickled 

Jalapeños

:
**I
f you are making these ahead of time, make sure to allot 24 hours for brining. These are "quick" in the sense that we're not canning them, but not quick in the literal sense!**
Prep your jars

 – Make sure to use wash your pint jar in warm soapy water and set aside to dry or dry by hand. 

Slice the Jalapeños

 – Slice the 

jalapeños

 super thinly (aim for 1/8 inch) and deseed if you prefer. I'm not a HUGE spice fan, but 

I

 don't deseed the 

jalapeños

 and find them perfectly edible after a solid brine!

Place the 

jalapeños in your jar(s) – If there are too many jalapeños

 slices, you can split them into two pint jars. In the summer when 

jalapeños

 are big, 

I

 typically use 2 jars.  

Mix & boil the liquid

 – In a medium saucepan, boil all of 

the

 remaining ingredients and whisk until the sugar has 

dissolved

. This only takes a few minutes. 

Pour the liquid over 

the

 

jalapeños

 

– Pour the vinegar mixture over the jalapeños and press them down so they are completely submerged. 

If a few are poking out, it is okay. 

Allow them to rest at room temp

 – This is important. You want to let the 

jalapeños

 rest in the mixture for approximately 1 hour at room temperature, and then move them to the refrigerator. 

After about 30 minutes

, I like to give them a couple flips to ensure the 

jalapeños

 are evenly coated and 

disbursed

. 

Refrigerate 24+ hours: Pickled jalapeños

 taste best after sitting for at least 24 hours. They become a bit less spicy with time, and 

develop

 a delightful sweet tang. 

Storing

 – Since this is not a canning recipe, these must be stored in the refrigerator. They can last for up to two weeks. If you're using fresh herbs, they are good for one week in the refrigerator. 
Customizing Quick Pickled Jalapeños:
Fresh or Dried Herbs: Dill, parsley, chives, or basil. 
Whole Spices: Mustard seeds, allspice, peppercorn, coriander or caraway. 
Mexican

 

Variation:

 Add the juice from one lime, 1 and 1/2 teaspoons of cumin, 1/4 teaspoon dried oregano, and 3 tablespoons of 

freshly

 chopped 

cilantro

. 
Quick Pickled Jalapeños
Easy, zesty pickled jalapenos come together in minutes and are the perfect salad, taco, or sandwich topper. No boiling or complicated equipment!
Equipment
1 Medium saucepan

2 mason jars with lids (16 ounce)
Ingredients
4-5

jalepeños (medium),

washed and thinly sliced (1/8 inch)

1

teaspoon

garlic,

minced

3/4

cup

water

1/2

cup

distilled white vinegar

1/4

cup

apple cider vinegar

(substitute distilled white vinegar)

2

tablespoon

brown sugar

(substitute white)

1

teaspoon

Diamond Crystal kosher salt
Instructions
Prep your pint jars for pickling: Wash the jars, lids, and bands in hot, soapy water. Rinse and drain.

Add the sliced jalapenos and garlic to your prepared jars.

In a saucepan over medium-high heat bring the water, white and apple cider vinegar, sugar, and salt to a boil. Whisk to ensure the sugar and salt are dissolved.

Pour the liquid evenly into your prepared jars so that the jalapenos are fully submerged.

Allow the jars to sit on the counter for approximately an hour before screwing on the lids and transferring them to the refrigerator. At this point, I like to give the jar a couple of turns to ensure the jalapenos are evenly submerged. The pickled jalapenos should sit in the refrigerator for at least 24 hours before enjoying for best flavor. Quick pickled jalapenos will last in the fridge for approximately two weeks.
Notes
Recipe adapted from Ambitious Kitchen How to Make Pickled Jalapenos. 
If your jalapenos are on the smaller side you may want to use 5-6. This recipe works great in the summer when jalapenos are in season and large. 
The thinner you slice the jalapenos the shorter time it takes for them to pickle. Thicker may take longer than 24 hours. 
If you like more mild jalapenos, remove the seeds.