Ripe, plump blueberries add the perfect amount of sweetness to this tender and moist blueberry zucchini bread. The recipe calls for half of the amount of sugar, but packs a delightful and warm flavor. 
As fall approaches, I find myself yearning to make my favorite summer and warm weather recipes. I love a good loaf of zucchini bread all year round, but there's something special about using fresh farmstand zucchini. 
The first time I had zucchini bread is the first time I had zucchini in any form. I remember being amazed how delicious the bread was, and how it did not taste like a vegetable at all! 
Arguably, zucchini bread is the best way to consume the squash. 
As much as I love a traditional zucchini bread loaf, I find that – like many quick bread recipes – there is way too much added sugar and it becomes more like a cake.  Sometimes that's what I'm looking for. Other times, I want a zucchini bread that I could feel good about eating at breakfast. 
That's where this recipe comes in for the win: All of the flavor and tenderness of traditional blueberry zucchini bread, and half the amount of sugar. 
You will LOVE this recipe because it is tender, moist, subtly sweet, and the perfect morning treat or afternoon snack.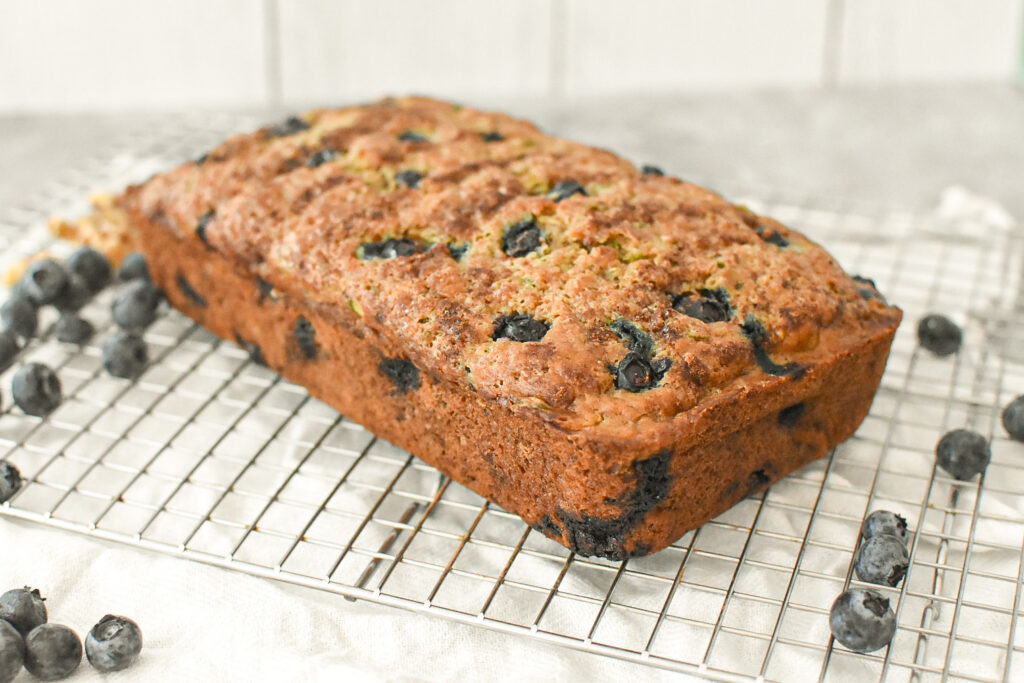 Reducing Sugar in a Recipe 
Most of us know that we add sugar to a recipe for added sweetness. But if that's ALL sugar did, then couldn't we just reduce the sugar to our taste in every recipe? Not necessarily.
Sugar plays a more crucial role in baking than being simply a sweetener.
Sugar helps to keep our baked goods soft, tender, and moist. It contributes to browning and depth of flavor, and even assist in leavening. 
In the case of a quick bread, it's the perfect vessel for tinkering with reducing the sugar. The bread typically stays in the oven long enough so you'll get browning. 
Sugar helps to keep quick breads moist, but the moisture from the zucchini bread steps in to counterbalance the lack of sugar. 
Finally, reducing the sugar in this recipe allows the blueberries, zucchini, and flavors from the warm spices to shine through. 
While sugar also helps to increase the shelf-life of a traditional quick bread, these loaves are super easy to freeze and so you can pop a few slices in the freezer until you are ready to enjoy. 
Note that this recipe is NOT very sweet. The end result is a moist, tender, and flavorful loaf, but a far cry from the dessert-style zucchini breads of my youth.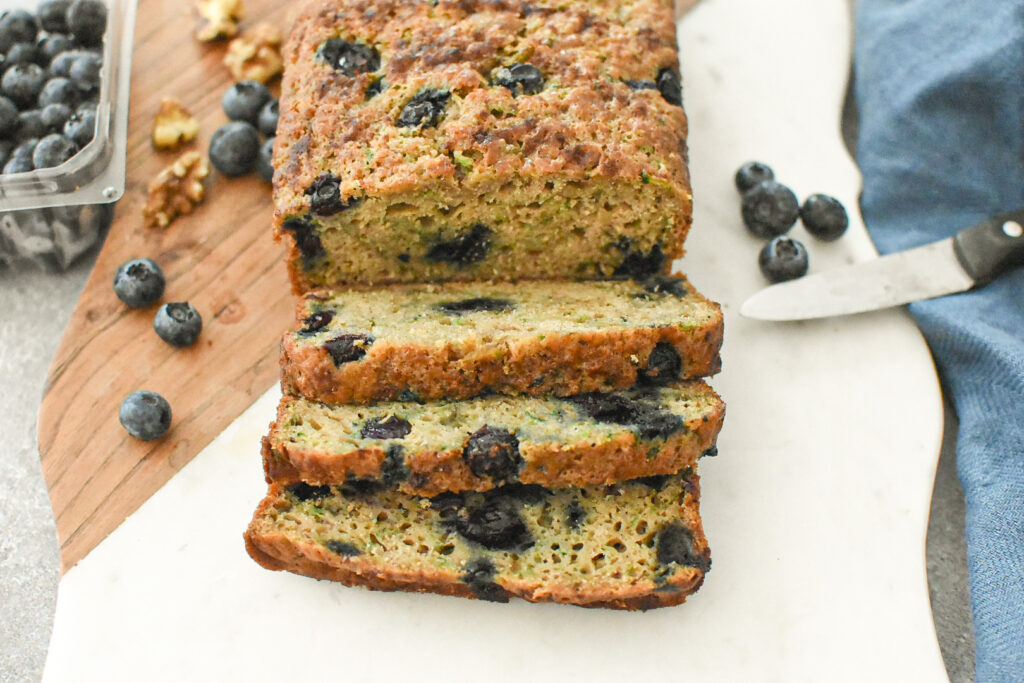 Ingredients for Moist Low-Sugar Blueberry Zucchini Bread:
Fresh Blueberries: You'll need about half to three quarters of a cup of fresh or frozen blueberries (the recipe calls for a half a cup, but you can add a bit more to personal preference). If you're using frozen, don't defrost them ahead of time (otherwise your batter will turn blue!). You may need to slightly adjust the bake time.
Zucchini: This recipe calls for 2 to 3 zucchini (depending on the size). You will need to shred it (I recommend a box grater because you have total control over how shredded it is, but a food processor works just fine). 
AP Flour & Cake Flour: To achieve the tender loaf, you'll need to use both types of flour here. I don't recommend substituting the cake flour, as that's what helps us get the proper consistency. 
Baking Powder & Baking Soda 
Brown Sugar and White Sugar: The warmth of brown sugar and moisture from the molasses contribute greatly to this loaf. 
Warm Spices: I use a blend of cinnamon, nutmeg, ginger and cardamom. Omit the flavors you don't like. 
Diamond Crystal Kosher Salt:

Make sure to use approximately half if you are using Morton's or another iodized salt. 

Plain Low-Fat Yogurt: The addition of yogurt contributes to the tenderness and moisture of the loaf. Low-fat regular yogurt has more water content than Greek yogurt, so resist the temptation to use Greek in this recipe. 
Lemon Juice & Zest

: Fresh lemon juice and zest helps to brighten the flavor of the blueberries and zucchini. 

Butter: A few tablespoons of butter ensures the loaf is tender and enhances the flavor.  
Eggs: Two large eggs! 
Pure Vanilla Extract: For added warmth and flavor. 
Walnuts: Toasted walnuts are optional but highly recommended! You could also use pecans instead. Toasted nuts add a wonderful layer of flavor. 
How to Make Moist Low-Sugar Blueberry Zucchini Bread:
Leave yourself some cushion room for this recipe. If you're using walnuts, remember to toast them in advance so they have time to cool. 
Make sure you take your eggs, butter, and yogurt out so they are room temperature (anywhere between 30 minutes and 2 hours, depending on your kitchen).  Bringing ingredients to room temperature helps them to combine when mixed. It also assists with even baking. 
You'll also want to start straining the zucchini at least 30 minutes in advance. Once you prep the zucchini, this recipe comes together in no time. 
There's no need to peel the zucchini unless you really don't want the green flecks in the batter. 
Once the basic prep work is done, the recipe comes together in a few minutes. 
Read on for instructions and tips. 
Prep the Zucchini:

Using a box grater (or food processor) shred the zucchini and toss it with the brown sugar. Transfer it to a strainer over a bowl, and set aside. By allowing the zucchini to drain, you're able to add more of it to the recipe without making the bread gummy. 

Mix the dry ingredients: 

Sift the flours, baking soda and baking powder, salt, and spices together in a medium bowl. This steps helps keep the batter more light and airy (cake flour, in particular, tends to clump up). Set aside. 

Mix the wet ingredients: 

Once the zucchini has drained, squeeze remaining liquid out and mix in the zest with your fingers to incorporate it evenly. Stir in the vanilla, yogurt, lemon juice and set aside. 

Beat the butter and sugar, add the eggs:

 Using an electric mixer, beat the butter and white sugar until light and fluffy. Add the eggs, one at a time. Make sure to be scraping down the sides of your bowl during this process. 
Note: This is one of those cases where I actually prefer to use the hand mixer to mix the butter and sugar. Since there is so little butter and sugar, I have a hard time getting it to the correct consistency when using stand mixer. However, it is your preference! 
Add dry and wet ingredients to butter sugar mixture, alternating:

 By alternating adding the wet and dry ingredients to the butter-sugar mixture, you're ensuring an even distribution of ingredients while not over-mixing the batter.

You'll end up with a smoother and more tender cake.

 

Start with half of the flour mixture, and beat until just incorporated. Add a third of the zucchini mixture, followed by half of the remaining flour, another third of zucchini mixture, the remaining flour, followed by the zucchini mixture again.
Fold in the blueberries and walnuts (if using):

 Use a wooden spoon or spatula and gently fold in the blueberries and walnuts. Be careful not to over-mix. There shouldn't be any streaks of flour left. 

Spread the batter into your prepared pan and bake!

Bake the zucchini bread for between 50 and 55 minutes. When finished, it will have domed slightly and the top will be golden brown. It should spring back to the touch. You can also insert a toothpick into the center and make sure it comes out clean with no batter.
Allow the bread to cool for 10 minutes before removing it from the pan (gently) and allowing it to finish cooling on a wire rack. Slice and enjoy!
How to Store Moist Low-Sugar Blueberry Zucchini Bread:

 
Store the bread at room temperature in an airtight container or in wrapped tightly in plastic wrap for up to two days. 

The bread will last for up to five days in the refrigerator, but may become slightly more dry (partially due to the refrigeration, partially due to the reduced sugar). 
If you want to save the bread for later, I recommend wrapping slices tightly in plastic wrap and then again in tin foil and freezing it. 
To defrost, simply remove from the freezer and allow to defrost at room temperature prior to eating. You could also microwave or toast the individual frozen slices of bread. 
If You Liked this Recipe, You May Also Like: 
 Did you love this recipe? Rate and review it!
Moist Low-Sugar Blueberry Zucchini Bread
Cozy, warmly spiced zucchini bread with half the amount of sugar. You can feel good about indulging in a slice of this bread in the morning!
Equipment
1 9 x 5 inch loaf pan

Hand mixer or stand mixer

Shredder/grater (or food processor)

medium to large fine-mesh strainer
Ingredients
1

pound

zucchini (about 3 small or 2 medium)

2

tablespoons

brown sugar

1

teaspoon

lemon zest

1/2

cup

(100 g) sugar

1 ½

cup

(180 g) all-purpose flour

1/2

cup

(65 g) cake flour

1

teaspoon

baking powder

1

teaspoon

baking soda

1/2

teaspoon

Diamond Crystal kosher salt,

halve if using Morton's

1

teaspoon

cinnamon

1/4

teaspoon

nutmeg

1/4

teaspoon

ground ginger

1/2

teaspoon

ground cardamom

1/4

cup

(61 g) plain low-fat yogurt,

room temperature

1

tablespoon

fresh lemon juice

1

teaspoon

pure vanilla extract

3

tablespoons

butter,

softened

2

large eggs,

room temperature

1/2

cup

blueberries

1/4

cup

walnuts or pecans, chopped

(optional)
Instructions
Adjust an oven rack to the middle position and preheat the oven to 375℉. Spray the bottom of a 9 x 5-inch loaf pan with nonstick baking spray.

Shred the zucchini in the large holes of a box grater and toss with 2 tablespoons of brown sugar. Transfer to the strainer over a bowl and allow it to drain for approximately 30 minutes.

While the zucchini is draining, whisk the all-purpose flour, cake flour, baking powder, baking soda, cinnamon, nutmeg, ginger, cardamom, and salt in a medium bowl and set aside.

After the zucchini has drained, using your hands gently press to squeeze the remaining liquid. Mix the lemon zest thoroughly to coat the zucchini. Next, add the yogurt, pure vanilla extract, and lemon juice. Stir to combine and set aside.

Beat the white sugar and butter together with an electric mixer on medium-high until light and fluffy (5-7 minutes). Scape down the sides of the bowl as needed.

Add the eggs to the sugar/butter mixture, one at a time, beating well after each addition.

Mix the dry mixture & zucchini mixture, alternating: Add 1/2 of the flour mixture to the sugar/butter/egg mixture and stir until just incorporated. Add 1/3 of the zucchini mixture and stir to combine. Add half of the remaining flour mixture, and mix until just incorporated. Add half of the remaining zucchini mixture and stir until combined. Add the remaining flour mixture and stir until just incorporated. Fold in the remaining zucchini mixture, blueberries, and chopped nuts (if using).

Scrape the batter into the prepared loaf pan. Sprinkle the top with cinnamon or additional chopped pecans. Bake the loaf until golden brown, approximately 50 to 55 minutes, rotating the pan halfway through. The bread will spring back to the touch when ready.

When the bread is finished baking, remove it from the oven and allow it to cool for approximately 10 minutes before removing it from the pan and transferring it to a wire rack. Allow the bread to cool slightly before cutting into it. The bred can be stored wrapped in plastic wrap at room temperature for up to 3 days.
Notes
Recipe adapted from Cook's Illustrated The Best Light Recipe Zucchini Bread (pg. 300). 
If your zucchini is very fresh, after sugaring and draining the zucchini you may want to wrap it in paper towels and squeeze out the excess liquid. 
If you would like the bread to be a touch sweeter, add 3/4 cup white sugar instead of the 1/2 cup.