Reminiscent of Almond Joy bars, these oatmeal chocolate coconut cookies are filled with creamy milk chocolate, toasted coconut, and chewy oats. The end result is a chewy, delightful cookie full of flavor!
These cookies came on my radar several months ago when I found a new recipe that used coconut oil instead of butter in cookies. 
I was pleasantly surprised how well the use of coconut oil complimented the cookie. It's a healthy-ish swap that turns out a chewy, delectable cookie.  
These little oatmeal chocolate coconut cookies are super easy to make – no need to wait for all your ingredients to come to room temperature – and no need to chill the dough. 
The flavor profile reminds me of Almond Joy or Mounds candy bars. Each bite is filled with bits of chocolate, warm toasted coconut, and oats. They are dense, delicious, and a personal favorite of mine. 
Ingredient List
Old Fashioned Oats – Go with the traditional old fashioned oats, stay away from quick-cook or steel cut for this recipe.
Sweetened, Shredded Coconut – If you use unsweetened, the end result will be a tad less sweet.
Coconut Oil – It's what makes these cookies so special and unique!
Light Brown Sugar – This keeps the cookies extra moist and flavorful, while also helping the baking soda do its job!
Whole Milk (or water) – Butter is 16 to 17 percent liquid, whereas coconut oil is 100% fat, therefore we want to reinstate some of the liquid. You want the milk to be COLD.
Chocolate Bar – For this recipe, I like to use a Symphony chocolate bar – I love the little extra flavor boost from the almond. But, feel free to use a regular milk chocolate bar if that's all you can find.
AP Flour – You can use all-purpose flour in this recipe. I've swapped out half of AP flour for bread flour and it works great, too.
Baking Soda and Powder – A combination of both here.
Cinnamon – Let's be real, I'll add cinnamon to just about everything and anything. I use one full teaspoon, but feel free to scale back based on your preference.
Vanilla Extract – It's not a cookie of any kind without a little bit of vanilla!
One Large Egg – Nope, does not need to be room temperature! Straight from fridge, nice and cold.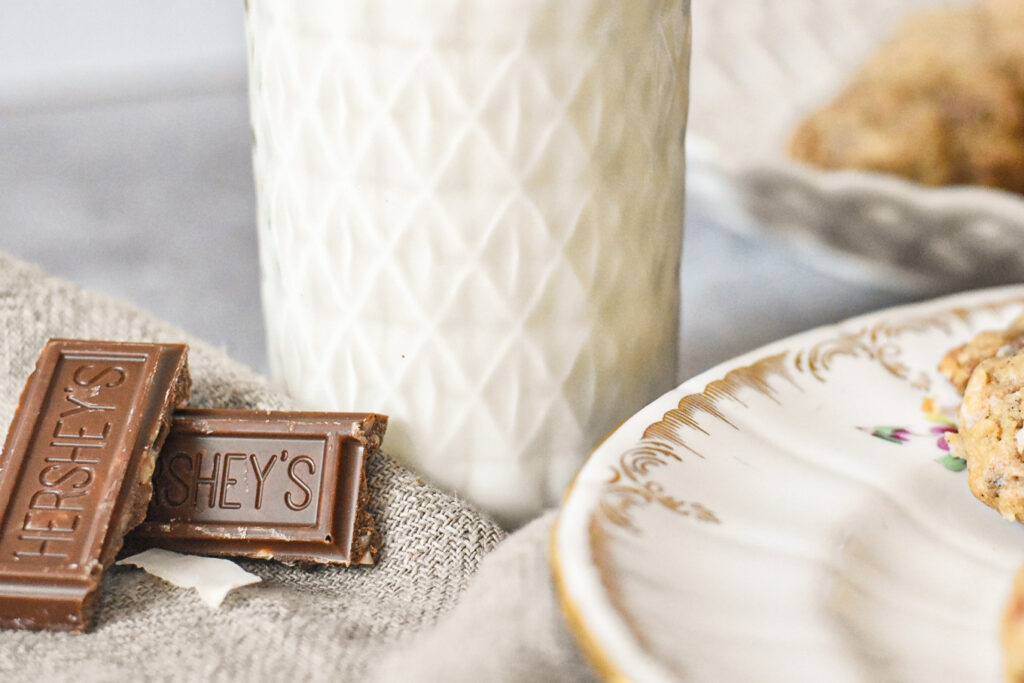 Tips on making Oatmeal Chocolate Coconut Cookies: 
This is a SUPER easy cookie recipe, which is why I love it! But here are a couple of tips to ensure success: 
Make sure you egg and water are both cold. Since the coconut oil will be melted, it is inevitably warm. By adding the cooled liquid ingredients, you help drop the temperature. 
When fully combined, the dough should be thick enough to scoop. 

If not, you can refrigerate the dough for 10 to 20 minutes until it is just stiff enough. Wait too long, and you will have a difficult time scooping it (coconut oil becomes quite hard at cooler temps). 

 
Storing and Freezing Instructions
These cookies can be stored in an airtight container for up to 3 days. 
You can freeze baked cookies in an airtight container, or wrapped in plastic wrap and then tin foil, for up to 3 months. To defrost, remove from the freezer and allow to come to room temperature. 
If you make the dough ahead of time, it will last in the refrigerator for up to five days. I recommend baking them after 3 days. 
NOTE: I highly recommend scooping the dough BEFORE you place it in the refrigerator (or freezer). It'll be very tough to scoop otherwise. 
When you are ready to bake the dough, let it sit out at room temp for 30 minutes or so while you are preheating the oven. 
If you want to freeze the cookie dough, You really need to scoop the dough into the desired shape prior to freezing (trust me – it's feasible if you skip this step, but it makes your job a lot easier!). 
The day before you want to bake the cookies, simply remove the dough from the freezer and allow to defrost in the refrigerator. 
If you liked Oatmeal Chocolate Coconut Cookies, you should try: 
Did you enjoy this recipe, make sure to rate it and comment!
Oatmeal Coconut Chocolate Cookies
Sweetened toasted coconut, creamy Symphony chocolate bars, and oats are combined for the perfect cookie, reminiscent of Almond Joy candy bars.
Equipment
2 baking sheet trays

Stand mixer or hand mixer
Ingredients
1/2

cup

plus 2 tablespoons (142 g) melted coconut oil,

cooled slightly

1

cup

(213 g) light brown sugar

1

teaspoon

baking powder

1/4

teaspoon

baking soda

3/4

teaspoon

table salt,

if using Kosher, double

1

teaspoon

cinnamon

1

large egg,

cold

2

tablespoons

whole milk,

cold (sub water)

1 1/2

cups

(180 g) all-purpose flour

1½

cups

(149 g) old fashioned oats

1

cup

(170 g) Symphony chocolate bar (about 1 ½ XL bars)

chopped roughly (sub regular milk chocolate or semi-sweet chocolate)

3/4

cup

(53 g) shredded coconut,

lightly toasted
Instructions
Preheat your oven to 375℉. Arrange a shelf in the oven to the middle. Line two sheets with parchment paper and set aside.

In a stand mixer fitted with the paddle attachment, combine the melted coconut oil, brown sugar, baking powder, baking soda, cinnamon, and salt and cream together on medium-high speed until well combined. Scrape down the sides of the bowl.

Add the egg, milk, vanilla, and beat until cream and continue to scrape down the sides of the bowl as needed.

Add the flour, oats, and toasted coconut and mix on low until combined. Stir in the chopped chocolate bar.

Transfer the dough to the refrigerator and allow to chill for 15 to 20 minute until you are able to scoop it. See notes for freezing instructions.

Using a smaller ice cream scoop, drop the dough by tablespoons onto a prepared baking sheet, allowing 1½ to 2 inches of space between them.

Bake the cookies for 10 to 13 minutes, until the edges are set and the cookies are lightly golden brown. Allow the cookies to cool slightly on the baking sheet for approximately 5 minutes before transferring them (carefully) to a wire rack. These cookie can be stored in an airtight container on the counter for up to 5 days, or frozen for up to 3 months.
Notes
Recipe adapted from King Arthur Flour Oat Chocolate Chip Cookies. 
Optional Mix-ins: You can use 3/4 cup chocolate instead of a full cup, and add 1/2 cup of toasted walnuts, pecans, or slivered almonds. 
To toast the coconut, spread it evenly on a baking sheet and bake at 325 degrees for approximately 3 minutes. Give it a stir, and bake another 3 minutes. Stir again, and then bake for 3-4 minutes until golden brown. 
If you need to chill the dough longer than 15 to 20 minutes, I recommend scooping it into balls at the 15 minute mark and returning them to the refrigerator.  This dough can be stored in an airtight container in the refrigerator for up to 5 days, or in the freezer for up to 3 months. 
When you are ready to bake the cookies, if they are frozen first allow them to defrost in the refrigerator overnight. Let the cookies sit out on the counter for approximately 30 minutes while you're preheating the oven, and then bake according to the instructions.