An easy, healthy make-ahead quinoa salad that can be served hot or cold. This dish is made with roasted root vegetables and tossed in an aromatic ginger scallion sauce. Ginger-scallion quinoa salad can be eaten alone, or make it a full meal with the addition of your favorite protein. 
I'm always on the lookout for recipes that use up cheap root vegetables. I know root vegetables are considered "winter" produce, but I eat them year round.
I found a recipe for warm quinoa salad with roasted root vegetables in Joanne Chang's Flour Too book (another indispensable cookbook).This is one of my favorite recipes in the book, and I've made it several times over, tweaking it a bit to my taste.
The quinoa salad in her book is intended to be served warm, but when I make this I eat it cold and toss it into some greens. I add about 4-5 ounces of teriyaki chicken to it for that added boost of protein.
Why I love Ginger-Scallion Quinoa Salad:
Aromatic, fragrant ginger-scallion dressing and texture. Trust me, it doesn't get much better. It's mellow and addictive.
Easy to make. I am always on the lookout for easy side dish recipes to add to my meal prep roster. The most time consuming part of this recipe is peeling and chopping up the veggies.
Gets better with time. This is another one of those recipes where the flavors only improve once the dressing has time to marinade.
Can be eaten hot or cold. Sometimes I get bored eating salads, and so this is a super versatile "salad" that can be used as a side dish for a hot meal or cold.
Uses inexpensive veggies – Some of the ingredients on the list are a little $$ if you're starting from zero. But the vegetables used here are typically some of the least expensive at the store (love me some root vegetables).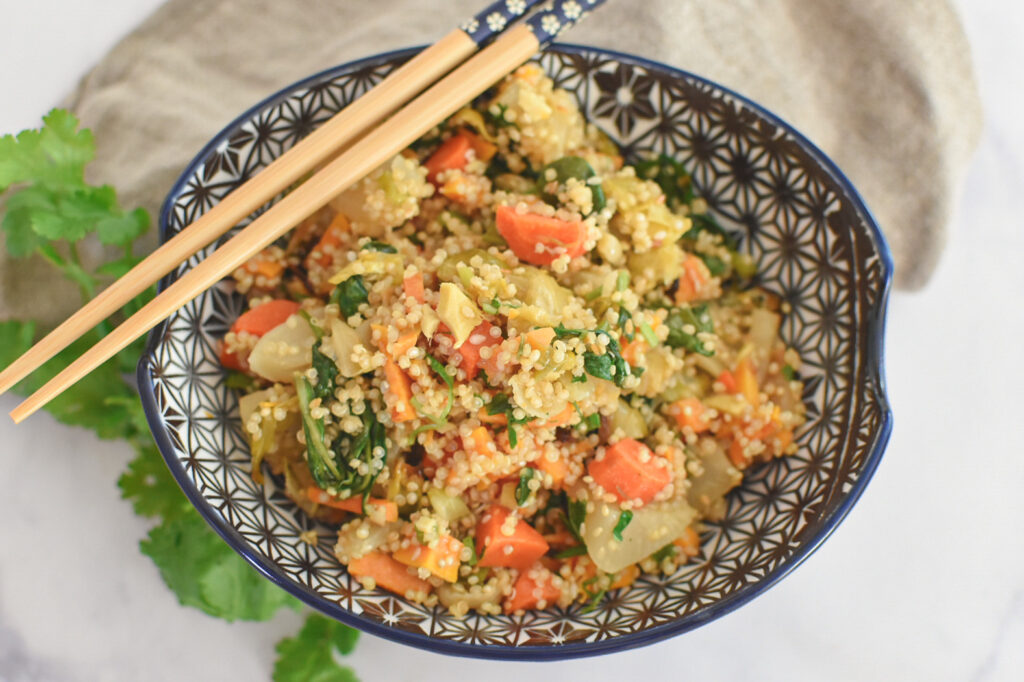 What you Need to Make Ginger-Scallion Quinoa Salad:
Quinoa

– Whatever kind you like! 

Tri color, white, red, black…
Root Veggies – This recipe uses carrots, purple top turnips, Brussels sprouts, and a sweet potato. 
Rice Vinegar – I use seasoned, but use what you can find or whatever you have on hand.
Sherry Vinegar – Rich, nutty, and slightly sweet. 
Sesame Oil – I hate buying unnecessary ingredients, but sesame oil is SO worth it. It's an essential oil in Asian cooking. 
Fresh Ginger

– Don't skimp and swap for the spice. This adds a warming and 

fiery

 taste and 

unmistakable

 kick. However, if you MUST…use approximately 3/4 teaspoon of high quality ground ginger in its place. 

Honey – Honey mellows out some of the more intense flavors in this dish. 
Scallions – Can't have ginger-scallion dressing without the scallions! You'll probably end up using a full bunch for this recipe. 
Mix-ins – I like adding some toasted sesame seeds and chopped cilantro. I add two cups of chopped spinach while the dish is still warm to allow it to wilt. 
Substitutions and Modifications:
I took the original recipe from Joanne's book and made a few tweaks to suit my taste. In doing so, I found it easy to adjust the flavors without compromising the overall integrity of the original recipe. 
Substitute some parsnip for the carrot. 

Swap the turnips for parsnip or another root winter vegetables. 

Swap the sweet potato with butternut squash. 

If you don't have quinoa, couscous works wonderfully!

If you substitute 

kale

 or another leafy green for the spinach, you might have to cook it down a bit separately. 
How to Store Ginger-Scallion Quinoa Salad: 
This dish will keep for up to five days in the refrigerator in an airtight container. 

You can freeze this salad for up to a month. Store in an airtight container. Allow to defrost in the refrigerator overnight. 
If you like this salad, try one of my other easy meal prep salad recipes:
Ginger-Scallion Quinoa Salad
A healthy, vegetable-packed salad that can be served hot or cold. A perfect side dish to serve with teriyaki chicken or tofu.
Equipment
1 Medium saucepan

1 rimmed baking sheet
Ingredients
Roasted Vegetables
8-9

medium to large Brussels sprouts,

trimmed and quartered

3

medium carrots (about 2 heaping cups),

peeled and cut into 1/2-inch slices

1

small sweet potato (about 2 cups),

peeled and cut into 1/2-inch slices

3

medium purple top turnips (about 5 cups),

peeled and cut into 1/2 inch slices

2

tablespoons

sesame oil

1

teaspoon

Diamond Crystal Kosher salt
Ginger-Scallion Sauce
2

tablespoons

seasoned rice vinegar

2

tablespoons

sherry vinegar

1

tablespoon

sesame oil

2

tablespoons

canola oil

1

tablespoon

honey

3

tablespoons

fresh ginger,

minced

9

scallions (white and green parts),

sliced thinly
Quinoa
1

cup

quinoa,

rinsed and drained

2

cups

water

1

teaspoon

sesame oil
Garnish/Mix-Ins
1

tablespoon

sesame seeds,

lightly toasted

1/4

cup

cilantro,

chopped

2

cups

fresh spinach,

chopped
Instructions
Preheat the oven to 400° F and place the rack in the middle of the oven. Line a baking sheet with parchment paper or tin foil and spray with non-stick spray.

Make the Ginger-Scallion Sauce: In a small bowl, whisk together the ginger-scallion sauce ingredients until combined. Set aside.

Roast the Veggies: In a medium bowl, toss the vegetables in the sesame oil and season with salt and pepper. Toss to coat. Transfer the vegetables to the baking sheet, arranging them in a single layer. Roast the vegetables, stirring every 10 minutes or so, for approximately 45 minutes until tender and cooked through. This may take more or less time depending on your oven. Remove from the oven and set aside.

Make the Quinoa: While the vegetables are cooking, combine the quinoa, 1 teaspoon of sesame oil, and water in a medium saucepan. Bring to a boil over medium-high heat, and then cover and simmer for approximately 15 minutes until the quinoa is cooked through.

Toss it Together! In a large bowl, combine the vegetables and quinoa. Toss with the ginger-scallion dressing. While the mixture is still warm, stir in the spinach, and toasted sesame seeds. Cover tightly with plastic wrap or transfer to an airtight container and refrigerate for at least an hour before serving. Toss in the cilantro to garnish.
Notes
Recipe adapted from Joanne Chang's Flour Too Warm Quinoa Salad. 
Add the spinach when the dish is still warm/hot. Otherwise, it won't wilt. 
Feel free to substitute other root vegetables. The original recipe called for parsnips, but I sometimes can't find them. 
To add a boost of protein, toss in a cup of edamame.
Storing: 
This dish will last in the refrigerator for up to five days. 
You can freeze this dish for up to a month in an airtight container. Defrost in the refrigerator overnight.