An ice cream shop delight is turned into a cupcake! These vanilla milkshake cupcakes are so moist, tender, and flavorful. A great summer treat you'll want to make all year round!
Last winter I picked up some malted milk powder from King Arthur Baking Company. HANDS DOWN one of the best baking ingredient I've purchased! It's a sleeper hit in the flavor department. 
In August, I was on a mission to make a vanilla milkshake inspired dessert, and these cupcakes were born. 
The cupcake base essentially starts off as a vanilla cupcake, and the flavor is enhanced with the malted milk powder and a touch of warm spices. They are then filled with a creamy, marshmallowy, filling and topped with a rich, malted vanilla frosting. 
To give off the "milkshake" vibe, they are decorated with straws, cherries, and sprinkles (optional, but recommended!). 
It goes without saying these are a fun summer dessert, but they are SO cute and perfect to make all year round. I mean, c'mon…look at them…. 
What is in Vanilla Milkshake Cupcakes? 
This one's a long one, but when you're making them they're fairly easy to make and assemble. 
All Purpose Flour 
White & Brown Sugar: I like the added richness and moisture the brown sugar adds here. 
Baking Soda & Baking Powder

Diamond Crystal Kosher Salt: 

Make sure to use approximately half if you are using Morton's or another iodized salt. 

Malted Milk Powder: If you can't get your hands on King Arthur's, use Nestle Carnation's brand. You'll need this for the cupcakes and the frosting. 
Warm Spices:

I use a blend of cinnamon and nutmeg. 

Butter: Unsalted. 
Egg Whites: Reserve the yolks for custard or other recipes!
Sour Cream
Buttermilk – You'll need 1/3 of a cup. If you prefer to make your own, add 1 teaspoon of vinegar to your measuring cup and fill with milk to the 1/3 cup mark. Allow to sit for at least 5 minutes before using. 
Whole Milk 
Vanilla Extract
Confectioners sugar 
Marshmallow creme or fluff: I prefer creme because it's a bit more silky, but I've made these with fluff and they're just as delicious!!
Decorations: Paper straws, maraschino cherries, and sprinkles.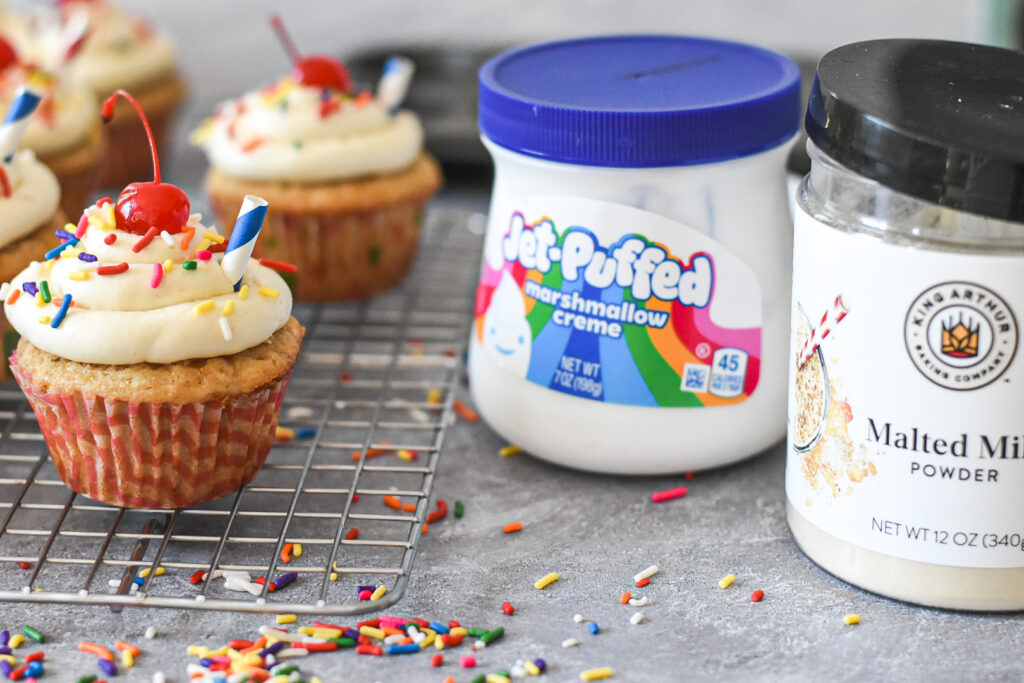 Tips on Vanilla Milkshake Cupcakes
Make sure your ingredients are room temp! This helps ensure fluffy, evenly baked cupcakes. However, when separating the eggs I recommend doing it when they are cold, otherwise they may become more difficult to separate. 
A note on leftover yolks: Yolks are good for 2 to 5 days in the refrigerator (stored in an airtight container), but don't try freezing them as-is. Check out this article for advice on freezing and ideas on using leftovers. 
Sift your dry ingredients! Sifting ensures there are no lumps, and also helps with even mixing. If there are lumps, press them through the sieve or discard if too large

. 

Stir the wet into dry until JUST combined. This is important so you don't develop too much gluten (and therefore create a more tough cupcake). 
Allow the cupcakes to finish cooling outside of the pan.

By removing them from the pan a few minutes after they are out of the oven (gently, and with oven mitts!), you're ensuring the cupcakes don't keep cooking in the tin. 

To fill the cupcakes:

In my instructions, I have you cutting out a piece of the center. You could also use a metal pastry tip. Also, I typically just spoon the filling into the hole, but you can certainly pipe it if you prefer (it doesn't affect the look, so I do what is easiest). 
Cored cupcakes example: I take a pairing knife and cut at a 45 degree angle. I prefer the cake to filling ratio this way, but you can adjust to your preference. 
Topped and filled! They're not perfect, but that's okay. You top them with frosting. If you prefer to ditch the little cone (or eat it:)) feel free. You could make little cake parfaits with it. 
Adding some finishing touches….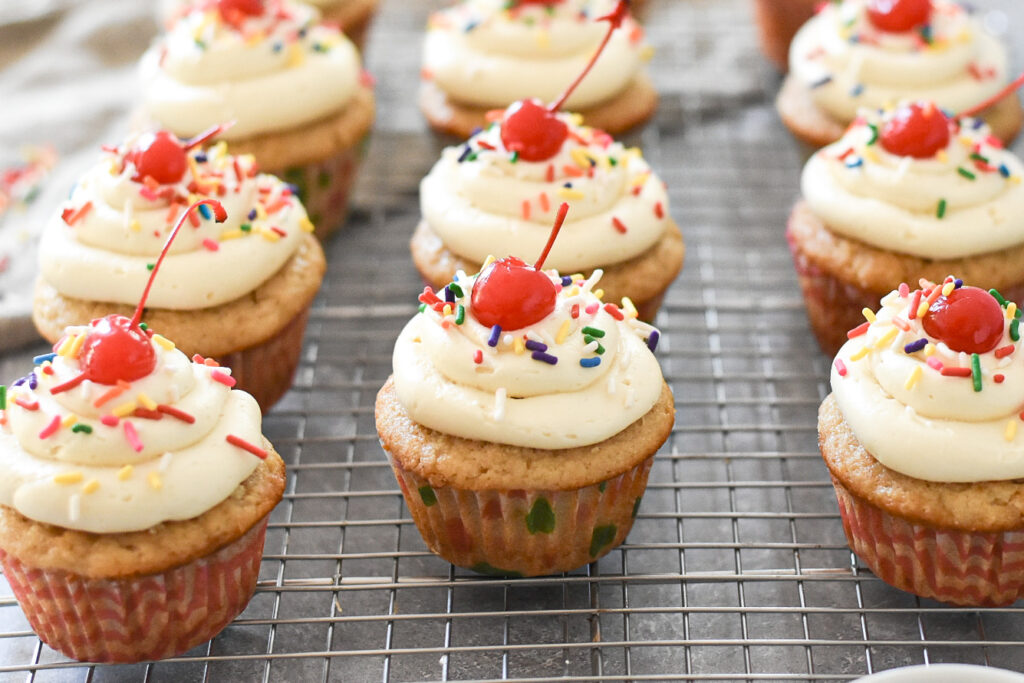 How to Store Vanilla Milkshake Cupcakes: 
These cupcakes stay fresh for up to 1 day stored in an airtight container or wrapped tightly. They will last in the refrigerator for up to 5 days in an airtight container. 
These might be milkshake cupcakes, but they should be enjoyed at room temperature. Butter-based cakes can taste hard (because saturated fat is hard when cold) when eaten straight from the refrigerator. 
At room temperature, the cake will remain soft and tender. The buttercream is also much more pleasant and soft at room temp! If you serve these from the refrigerator, let them come to room temperature for 45 minutes to an hour (depending on your kitchen). 
Freezing Instructions: 
You could tackle this one of two ways. Either make the cupcakes (just the cake), freeze them, and then fill and frost at a later date. OR freeze the entire cupcake (this works if you have leftovers you can't bear to throw out). 
To freeze the FULL cupcake (frosting and all!), I recommend chilling them first and then wrapping the individual cupcakes in plastic wrap and then an outer layer of tin foil. To defrost, remove from the freezer and allow to come to room temperature on the counter. 
I've done this several times and it works out great flavor-wise, but note that the frosting won't look as pretty after wrapped and frozen. 
To freeze JUST the cupcake cake, after baking, wrap each cupcake in individual in plastic wrap and then store in a gallon-size freezer bag. To defrost, remove from the freezer and allow to come to room temperature. Proceed with remaining ingredients instructions to assemble with frosting and filling.  
If you liked Vanilla Milkshake Cupcakes, you should try: 
Cannoli Cupcakes – A pastry shop delight turned cupcake!
Eggnog Cupcakes – Holiday in cupcake form. 
Did you enjoy this recipe, make sure to rate it and comment!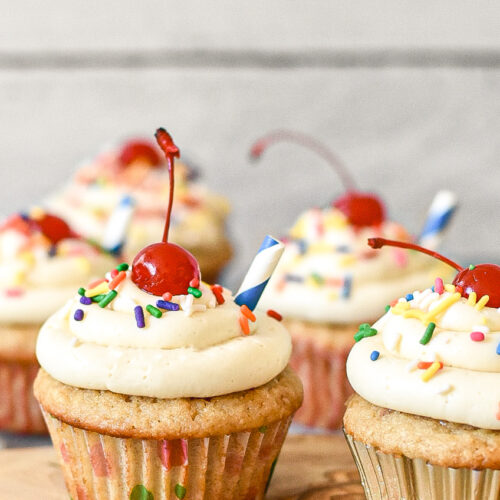 Vanilla Milkshake Cupcakes
Vanilla malt cupcakes, filled with a creamy marshmallow vanilla center, topped with creamy malted vanilla buttercream. A classic ice cream shop treat turned into a cupcake!
Equipment
1 standard 12-cup muffin tin,

filled with paper liners

double boiler set-up,

small saucepan and

stand mixer (preferably),

can use a hand mixer

piping bag and preferred tip
Ingredients
Cupcakes
1 ⅔

cups

(213 g) all-purpose flour

1/2

cup

(100 g) white sugar

1/2

cup

(100 g) packed brown sugar,

light or dark

1/4

teaspoon

baking soda

1 ½

teaspoon

baking powder

1/4

teaspoon

Diamond Crystal kosher salt

2

tablespoons

(12 g) malted milk powder,

King Arthur or Nestle Carnation

1/2

teaspoon

cinnamon

1/8

teaspoon

nutmeg

3/4

cup

(1 ½ sticks or 170 g) unsalted butter,

melted and slightly cooled

3

egg whites,

room temperature

2

tablespoons

(30 mL) vanilla extract

1/2

cup

(120 mL) sour cream,

room temperature

1/2

cup

(120 mL) buttermilk,

room temperature
Malted Vanilla Frosting
2/3

cup

(140 g) granulated sugar

2

egg whites

1 ½

cups

(3 sticks/342 grams) unsalted butter,

at room temperature, cut into 1-2 inch chunks

1⅔

cups

(230 g) confectioner's sugar

3

tablespoons

(18 g) malted milk powder,

King Arthur preferably or Nestle Carnation

1/4

teaspoon

Diamond Crystal Kosher salt

2

tablespoons

whole milk,

substitute heavy cream or half and half

1

tablespoon

vanilla extract
Marshmallow Filling
1

cup

(3 ounces) marshmallow creme or fluff

1/4

cup

prepared frosting (above)

1

teaspoon

vanilla extract

1

teaspoon

malted milk powder
Toppings & Decoration
12

maraschino cherries,

drained and patted dry with a paper towel.

3

tablespoons

sprinkles

decorative paper straws,

cut into 1 to 1½-inch pieces
Instructions
Cupcakes
Arrange a shelf in the middle of the oven and preheat the oven to 350℉. Line your muffin tin with paper liners and set aside.

In a large bowl, sift the flour, sugars, malted milk powder, salt, baking soda, baking powder, cinnamon, and nutmeg in a large bowl and whisk together to ensure there are no lumps.

In a medium bowl, whisk together the wet ingredients until combined. The mixture will be lumpy and that is ok!

Add the wet ingredients to the dry ingredients and mix until just combined. Do not over-mix the batter.

Using an ice cream scoop or 1/4 measuring cup, distribute the batter evenly amongst the cupcake papers, about 2/3 to 3/4 the way up.

Bake the cupcakes for 18 to 20 minutes, or until the centers are springy to the touch. Allow the cupcakes to cool slightly for about 5 minutes, then gently remove them from the tin and allow to finish cooling completely on a wire rack.
Malted Vanilla Frosting
While the muffins are baking and cooling, make the frosting.

In a small heatproof bowl, whisk together the granulated sugar and egg whites until combined. Place the bowl over simmering water in a saucepan (not touching) and heat the mixture, whisking occasionally for 5 to 8 minutes.

When the mixture is hot to the touch, and the sugar has dissolved completely, remove it from the heat (use oven mitts, the bowl will be hot). Add the egg white and sugar mixture to a VERY clean bowl of a stand mixer fitted with the whisk attachment. Whip on medium-high speed until the mixture becomes a light, white meringue. You should see soft to medium peaks.

Turn the speed down to medium and add the butter, one piece at a time, beating for 7-9 minutes until the butter is thoroughly incorporated and the mixture is smooth. There will be a point when it looks chunky, keep mixing.

Add the confectioner's sugar, malted milk powder, salt, milk, and vanilla extract. Beat on medium speed until the mixture is smooth and satiny.
Marshmallow Filling and Assembly
To make the marshmallow filling: Mix 1 cup of marshmallow creme or fluff with 1 teaspoon of vanilla, 1 teaspoon of malted milk powder, and 1/4 cup of the frosting. Stir until fully combined.

To prep the cupcakes: Using a pairing knife, insert a pairing knife at a 45-degree angle, just off-center of the top of the cupcake, inserting it about halfway down (make sure not to go all the way to the bottom).

Keeping the knife at an angle, cut a circle around the center of the cupcake. Lift out the cake cone that you have just cut and set aside. Repeat this for all of the cupcakes.

Alternatively, use an apple corer to remove the center. I prefer the knife method because it allows for more filling.

To fill the cupcakes: Using a tablespoon, spoon about 3/4 tablespoon of the marshmallow filling into each cupcake, dividing the mixture evenly. You can also pipe the filling. Press the cone you removed (or the top of it) back onto the cupcake. Don't worry about it being slightly domed or marshmallow poking out, you'll cover it with frosting soon enough.

Pipe the frosting: Using a round tip or star tip, pipe the frosting onto the cupcakes. If you don't have a tip and piping bag, you can use a plastic bag with the tip cut off.

Decorate the cupcakes: Press 1 maraschino cherry into the top of each cupcake and top with sprinkles. Stick 1 small piece of straw offset on the frosting. Enjoy!
Notes
The frosting recipe is adapted from Joanne Chang's Flour cookbook, Crispy Magic Frosting (page 186)
The cupcake recipe is adapted from Preppy Kitchen's Moist Vanilla Cupcake Recipe. 
Storing: These are best enjoyed the day of. However, they will stay moist for a couple of days. The cupcakes can be stored at room temperature for a day in an airtight container. They will last for up to 5 days in the refrigerator in an airtight container.  Enjoy at room temperature. 
Notes on Buttercream:
This frosting is easiest to make in a stand mixer, but can be done using a hand mixer it will just take longer to whip. 
The buttercream will yield approximately 3.5 cups. It should be used immediately. Otherwise, it can be stored at room temperature in an airtight container for up to 3 days. You will need to beat it in a stand mixer fitted with the paddle attachment for a few minutes to revive it.
Alternatively, the frosting can be stored in the refrigerator in an airtight container for up to 2 weeks, then bring it to room temperature and paddle in the stand mixer for a few minutes until smooth before using.