Made with white chocolate chips, real caramel corn, and salty toasted peanuts, Cracker Jack cookies are a delightfully unique cookie! Reminiscent of the classic Cracker Jack snack in cookie form. 
As fall approaches, I love baking warm and cozy recipes. Pumpkin and apple recipes seem to take center stage, but I think snack-inspired desserts are equally important. 
What screams fall more than a cookie inspired by a classic after-school snack? (Am I dating myself, here?). 
Cracker Jack cookies are simple to make, and the end result is a deliciously chewy and flavorful cookie that might be a regular in your rotation.  
What is Cracker Jack?
For those of you who aren't familiar, Cracker Jack is a molasses flavored, caramel popcorn and peanut mix. It is best known for being packaged with trivial prizes inside the bag or box.  
This treat was introduced to the market in the late 1800's. Yes, it's an old, American snack! 
Do you need Cracker Jack specifically for this recipe? Nope! You can use Utz caramel corn, Cracker Jack corn, homemade caramel corn, or another brand of your choice!
Why You'll Love Cracker Jack Cookies 
Full of flavor – Roasted peanuts, white chocolate, cinnamon, caramel… can you think of a better combination? 
Sweet and salty – This flavor duo stands out in these cookies. 
Complex texture – Chewy popcorn mixed with crunchy peanuts, and smooth white chocolate.
Goes beyond a traditional chocolate chip cookie – I guarantee if you bring these to a bake sale or potluck, you will be the only one with a similar cookie recipe!
Tips on making Cracker Jack Cookies: 
Thoroughly cream together the butter and sugar. This step is often overlooked in cookie baking. This is important to aerate the cookie dough to incorporate air. Otherwise, your cookies may become flat and uneven. 
How do I tell when my butter and sugar are fully creamed?

This typically takes between 5 and 7 minutes in a stand mixer. The butter and sugar should be entirely mixed (no visible sugar crystals), and the color should be very light. 

Make sure ALL ingredients are at room temp.

Eggs and butter should be taken out at least an hour prior to baking.  This aids in their ability to combine in the creaming stage. 

Chill the dough at least an hour but up to 24 hours. This allows the flavors to meld, and also helps prevent too much spread in the oven.  
Bake on parchment paper – Avoid Silpat or silicone mats, if possible. Again, this may affect the spread in an undesirable way. 
Are your cookies a bit misshapen when you take them out of the oven? Yes, even after chilling the dough and doing everything right… sometimes these cookies spread a bit …weird…Not to worry! While the cookies are still hot, just take the edge of a spoon, offset spatula, or butter knife and nudge any extra spread. When they cool, they'll be perfectly shaped.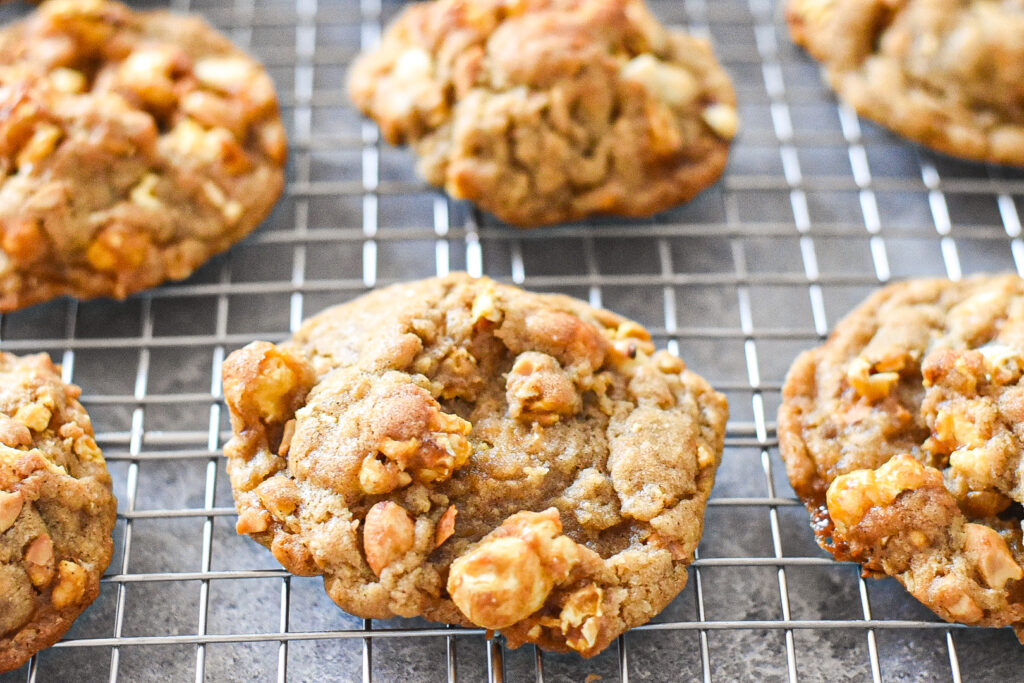 Storing and Freezing Instructions
These cookies can be stored in an airtight container for up to 3 days. 
You can freeze baked cookies in an airtight container, or wrapped in plastic wrap and then tin foil, for up to 3 months. To defrost, remove from the freezer and allow to come to room temperature. 
If you make the dough ahead of time, it will last in the refrigerator for up to five days. I recommend baking them after 3 days. 
If you want to freeze the cookie dough, I typically like to scoop the dough into the desired shape prior to freezing. It makes it easier scooping the dough. 
The day before you want to bake the cookies, simply remove the dough from the freezer and allow to defrost in the refrigerator. 
If you liked Cracker Jack Cookies, you should try: 
Turtle Bars – Another classic treat/snack turned into a bar cookie! 
Did you enjoy this recipe, make sure to rate it and comment!
Cracker Jack Cookies
Caramel corn, toasted peanuts, and white chocolate stud these buttery cookies. Reminiscent of the classic, childhood Cracker Jack snack.
Ingredients
1½

cup

(295 g) firmly packed light brown sugar

14

tablespoons

(1 ¾ sticks or 200 g) unsalted butter,

room temperature

1

large egg,

room temperature

2

teaspoons

pure vanilla extract

1

tablespoon

light, unsulfured molasses

1

teaspoon

butter extract,

optional (recommended)

1

cup

(140 g) all-purpose flour

1

cup

(140 g) bread flour,

sub AP if no bread flour

1/2

teaspoon

baking soda

1

teaspoon

baking powder

1

teaspoon

cinnamon

3/4

teaspoon

Diamond Crystal Kosher salt,

halve if using Morton's

5

cup

caramel popcorn,

broken up into pieces (see notes)

1/2

cup

white chocolate chips
Toasted Peanuts
1/2

cup

peanuts,

preferably unsalted

1/2

teaspoon

Diamond Crystal Kosher salt

1/2

tablespoon

butter
Instructions
To Roast the Peanuts: Preheat the oven to 350℉ and line a baking sheet with tin foil. Bake the (unshelled) peanuts for 20 to 25 minutes, stirring once, until they are golden brown. Remove from the oven, sprinkle with 1/2 teaspoon of sale and 1/2 tablespoon of butter. Stir and set aside. Once the peanuts are cool, roughly chop them.

In a medium bowl, whisk together the flours, baking powder, baking soda, cinnamon, and salt.

In a stand mixer fitted with the paddle attachment, beat the brown sugar and butter on medium-high until light and fluffy. This process should take between 5 and 7 minutes. If you have a hand mixer, this will take closer to 10 to 12 minutes.

Reduce the speed, and add the egg, vanilla, molasses, butter extract. Beat until combined.

Add the flour mixture to the butter mixture, and mix until just combined. At this point, I remove the bowl from the stand mixer and use a wooden spoon or plastic spatula.

Mix in the peanuts, white chocolate, and fold in the caramel popcorn. Transfer the cookie dough to an airtight container and let chill in the refrigerator for at least an hour but up to 24 hours.

When you are ready to bake the cookies, preheat the oven to 350 ℉ and line two rimmed baking sheets with parchment paper. (If you only have one baking sheet, allow the tin to cool completely between batches of cookies).

Drop large, quarter cup spoonfuls of the batter onto the prepared baking sheet. Allow 1 ½ to 2 inches between each cookie. Bake for 12 to 15 minutes, rotating the baking sheet halfway through.

Remove the cookies from the oven. Let them cool on the baking sheet for approximately 10 minutes before transferring to a wire rack to finish cooling. The cookies can be stored in an airtight container at room temperature for up to three days.
Notes
Recipe adapted from Pastry Love Jessi's Caramel Popcorn Cookies (pg. 191). 
For the caramel popcorn, I recommend Utz brand, Cracker Jack, or homemade. Don't use Kettle Corn. If the bits of caramel corn are stuck together, make sure to break them up a bit. You can also chop the caramel corn if you prefer smaller pieces. 
I find that even after chilling the dough, these cookies can spread in weird ways (due to the mix-ins). If you want more perfectly rounded cookies, while they are still hot, use the back of a spoon or a butter knife to gently press the edges of the cookies toward the center. 
Freezing Cookie Dough: You can store the dough in the refrigerator for up to a week, or in the freezer for up to three months. Prior to baking, remove from the freezer and allow to defrost in the refrigerator overnight. If you freeze or refrigerate the dough, allow it to come to sit out for 30 to 35 minutes prior to baking.