This delicious, flavorful, quinoa chicken enchilada casserole is packed with protein, fiber, and vegetables. If you love traditional chicken enchiladas, but want something that's healthier and even easier to make, look no further! It's naturally gluten free, customizable, and you can throw it together for a quick weeknight dinner!
I stumbled upon a variation of this quinoa chicken enchilada casserole recipe years ago on Eating Well when I was looking for healthy casserole dishes. Casseroles are one of my favorite recipes to make because they are easy to make and yield big portions. 
I love chicken enchiladas, but I don't always enjoy the messy process of making them. Sometimes I want something that is more balanced and healthy, but still packs the flavor of traditional enchiladas. 
I took the basic elements of enchiladas, and swapped the tortilla for quinoa, and reduced the amount of cheese. I added fresh vegetables, spices, and fresh herbs. I love this recipe because it's so easy, and is super customizable. It's high in protein, fiber, low in fat, and perfect for meal prep or a weeknight dinner. 
Why you'll LOVE this Recipe: 
It's

easy

. This can be thrown together in 30 minutes. 

Simple

ingredients. Pre-cooked chicken, pre-made enchilada sauce, nothing crazy. 

It's

high protein

, high fiber, low fat, and so delicious. 

Perfect for

meal prep

, weeknight dinners, or even a potluck. 

Customizable to many diet types including

dairy-free

,

gluten-free

,

vegan

, and

vegetarian

. 
What's in this Healthy Chicken Enchilada Casserole?
Quinoa – I swap tortillas for quinoa. It's naturally gluten-free and filled with fiber and protein. You can make the recipe to the specifications I put in the recipe, or make a double batch, and save the other half for other meals throughout the week. 
Chicken Broth – For this recipe, I cook my quinoa in chicken broth because I like the flavor, but you can use vegetable broth or whatever stock you have on hand. I typically cheat and use chicken Boullion cubes. 
Chicken – I use shredded rotisserie chicken because it's easy and quick. If you don't like rotisserie chicken, feel free to substitute with shredded chicken breast. This recipes uses most of a whole rotisserie chicken. 
Enchilada Sauce – I typically used canned enchilada sauce. However, if you have a favorite homemade enchilada sauce recipe, that will work just fine! Make sure to use the same quantity (about 10 to 12 ounces) for the recipe. 
Cheese – I use a nice melty cheese like Monterey jack, but you could substitute a Mexican blend or similar cheese. Omit the cheese if you have a dairy intolerance. 
Veggies – This recipe calls for a mix of peppers, onions, and spinach, but you can get creative and add other similar vegetables to your taste. Just adjust some of the proportions of other vegetables so as to not overwhelm the dish.
Spices – I use cumin and chili powder, but you can tinker around with other seasonings like smoked paprika and cayenne, depending how spicy you like it. 
Salt – This recipe calls for about a teaspoon of salt. I use Diamond Kosher salt. If you use another brand of Kosher salt, adjust the salt accordingly. If you're using Morton's salt, half the amount used. Don't use iodized table salt. 
Black Beans – I love Bush's chili black beans for this recipe, but you can use regular canned black beans. 
Red Enchilada Sauce – This recipe calls for a 10 ounce can of red or green enchilada sauce (I prefer red). You can chose whatever spice level you prefer. Use homemade sauce if you would like! 
Diced Green Chiles – My husband introduced these to me. I like the added flavor they bring. They are optional if you can't find them. 
Cilantro – I love the flavor of cilantro, but if you're not a fan just leave it out or use fresh parsley. 
Optional Add-Ins/Substitutions
Corn – substitute half of the beans for corn, or swap the beans out. 
Kale – Swap the spinach for chopped kale leaves. 
Ground meat – Substitute 1 pound ground turkey, chicken, or beef chicken for shredded chicken 
Refried beans – tastes delicious with few dollops (warmed)!
Zucchini – I love adding a half cup of cooked zucchini right in.
Can I Make This Vegetarian or Vegan?
Absolutely! This recipe tastes just as good with or without the chicken. You could even substitute your favorite meatless chicken in the same quantity. I haven't tried it with tofu, but properly prepared tofu would likely work as well. If you omit the chicken, add another 2.5 cups of veggies like zucchini, mushrooms, or broccoli. 
Ways to Eat It
By itself, topped with fresh diced avocado and tomatoes.
As a side dish
In tacos or burritos as a filling 
Meal prep, divided and portioned 
What can I top Chicken Enchilada Casserole with?
Anything you like! 
Fresh chopped scallions

Salsa

Hot sauce

Avocado

 or guacamole

MORE cheese

Sour cream or full fat greek yogurt 
Make Ahead Instructions
This chicken enchilada casserole can be made up to two days in advance (stored in the refrigerator) and baked when you are ready to eat it. Assemble the dish in the prepared baking pan, cover tightly with plastic wrap, and store it in the refrigerator.
Before you are ready to bake it, remove it from the refrigerator and allow it to come to room temperature before baking (allowing approximately an hour).
How to Store Healthy Chicken Enchilada Casserole
This dish should be stored in the refrigerator, tightly wrapped or in an airtight container for up to four days.
Freezing Instructions
To freeze the dish, you can preassemble it in the baking dish and cover tightly with plastic wrap for up to a month. Thaw the dish before baking.
Leftovers can be stored in airtight containers (I like to portion out a serving to have an easy meal on hand) in the freezer for about a month. To reheat, simply remove from the freezer and microwave until hot. I like to take the portion out of the freezer and move it to the refrigerator the night before to cut down on microwave time.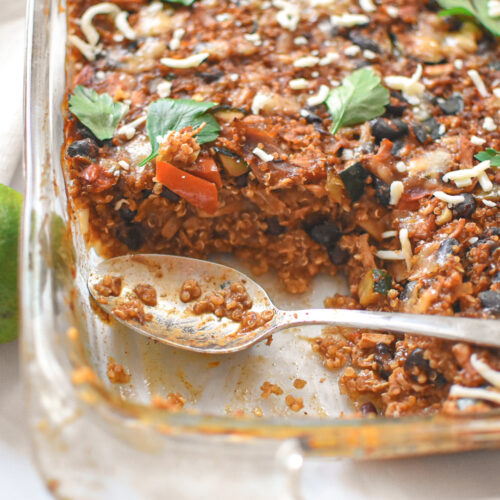 Healthy Chicken Enchilada Casserole
A healthy, easy take on chicken enchiladas. This recipe is packed with protein, fiber, and flavor, and will be a staple in your house!
Equipment
1 9 x 13-inch glass baking dish,

substitute 8 x 8-inch or 9 x 9-inch glass baking dish

1 Medium frying pan

1 Small sauce pan
Ingredients
1 ½

cups

chicken broth,

vegetable broth, or water

3/4

cup

uncooked quinoa,

rinsed and drained

1

tablespoon

olive oil

1/2

medium onion (about 1 cup),

finely chopped

2

garlic cloves,

minced

2

Italian peppers,

chopped

1/2

red pepper (about 1/2 cup),

chopped

2

tablespoon

chili powder

2

teaspoon

cumin

1

teaspoon

Diamond Kosher salt,

divided

2 ½

cups

rotisserie chicken (one whole),

shredded and diced

1/2

cup

shredded Monterey Jack cheese,

divided

1

can (15 oz)

black beans (chili style or regular),

rinsed and drained

1

can

diced green chiles (optional),

drained

1

can

red enchilada sauce (10 ounces),

store bought or homemade

2

cups

fresh spinach,

roughly chopped

1/4

cup

fresh chopped cilantro (optional)

diced tomatoes, avocado, and cilantro for garnish
Instructions
Preheat the oven to 350 degrees and prepare a 9 x 13-inch baking dish with cooking spray or lightly coated in oil.

In a small saucepan, combine the uncooked quinoa and chicken broth and bring to a boil. Reduce to a simmer and cook until the water is absorbed and the quinoa is tender, approximately 15 minutes. Remove from the heat and set aside.

In a large skillet over medium-high heat, heat a tablespoon of olive oil. Add the onions and 1/2 teaspoon of salt and cook until tender, stirring occasionally, approximately 5 minutes. Add the Italian peppers, red pepper, chili powder, cumin, remaining 1/2 teaspoon of salt, and cook until the vegetables are barely softened, about five minutes. Add the garlic and cook for another 30 seconds until fragrant.

Turn the heat down to medium, and add the rotisserie chicken, drained black beans, diced chilis, and enchilada sauce to the skillet. Cook for another 10 minutes to allow the flavors to blend. Add the chopped spinach and cook until barely wilted, about 30 seconds to one minute. Remove the pan from the heat.

Add the cooked quinoa and chopped cilantro (if using) to the skillet and toss to combine. If you don't have enough room in the skillet, combine the quinoa and chicken mixture in a large bowl. Spread half of the mixture in the prepared baking dish and sprinkle with half of the cheese. Top with the other half of the quinoa chicken mixture and sprinkle the remaining cheese. Add more cheese if you prefer a super cheesy topping!

Bake until the casserole is hot and the cheese is melted, approximately 20 to 25 minutes. Let sit for five minutes, and then top with desired garnishes to serve.
Notes
Recipe adapted from Eating Well Quinoa Chicken Enchilada Casserole, published October 2016
Substitutions/Modifications 
Add a half cup of your favorite vegetable 
Vegan/vegetarian - swap the chicken out for meatless chicken (or leave it out entirely!
Dairy-Free - leave out the cheese or swap for vegan or dairy-free cheese 
If you use a smaller baking dish (8x8 or 9x9), adjust the bake time accordingly (increase by 5 to 10 minutes). 
Salt - Please pay attention to the type of salt you're using. This recipe (like all of my recipes) calls for Diamond Crystal Kosher salt, which is far less salty than Morton's Kosher salt. If all you have on hand is Morton's - then cut the salt back by half and add more as needed. Otherwise, this dish may end up far too salty! 
Freezing Instructions - Store leftovers in the freezer for up to a month. You can make the casserole ahead of time, cover it with plastic wrap, and store it in the freezer before you bake it. Simply remove from the freezer and allow to defrost before freezing it.