This bright, creamy, flavorful lemony green goddess dressing will add a boost of flavor to any salad, bowl, or wrap. A healthy, high-protein, take on a classic. It's so quick to make and you can use any fresh herbs you have on hand. 
I have to confess: I never used to be a fan of green goddess dressing. It always seemed a bit bland to me. That is, until I had it at Flour Bakery in Boston on their chopped greek salad. Flour's chopped salad has lemony greek marinated chicken, chickpeas, crunchy banana peppers, salty feta cheese, and a creamy green dressing. 
I never gave much thought about the addictive dressing at Flour until I realized it was green goddess dressing. Mind blown. Putting GREEN GODDESS on a chopped greek salad? Let me tell you: it works. In fact, I think it's brilliant. 
Unlike traditional greek salad dressing which is full of tart ingredients like vinegar, dijon, and lemon, that could easily overwhelm an already acidic salad. Flour's green goddess dressing adds a layer of coolness and creaminess to the salad that balances it out. I knew I wanted to recreate something similar, but with a little added boost of flavor. 
Traditional Green Goddess Salad Dressing: 
Food historians [mostly] agree green goddess dressing was first made at the Palace Hotel in San Francisco by chef 

Philip

 Roemer in 1923. The dressing has historically been made with mayo, and has gone in and out of style 

over

 the years. 
At its core, green goddess dressing is simply a pureed dressing with herbs and a creamy base. Mayo, sour cream, yogurt, or buttermilk give the dressing the signature creamy texture. 
A lot of recipes use anchovies for the umami taste, while others sub in capers or Worcestershire sauce (do you know how many times I had to google how to spell Worcestershire?). Traditional herbs included dill, chervil, chives, and tarragon.
A Healthy Take on Green Goddess Dressing 
I've tried a few different green goddess dressing recipes. Some called for mayo, others used SO many herbs, and others were bland. I wanted a dressing that made me want to eat salad, and this recipe does the job. I also wanted a salad dressing that wasn't packed with unhealthy fats. I also had a hard time finding specific herbs requested in some recipe at my local grocery store.
My spin on green goddess dressing has nutty tahini, protein packed greek yogurt, fresh lemon juice, and deepened umami flavor from the nutritional yeast. It's creamy, light, and perfect for topping a salad, bowl, or dipping veggies. You can swap the greek yogurt for your favorite non-dairy yogurt to make this vegan. 
The dressing is easy and customizable. It calls for parsley, and a mix of whatever herbs you might have on hand. If you prefer a more traditional green goddess flavor, you can use tarragon, dill, basil, or chives in your mix. 
Lemony Green Goddess Dressing Ingredients:
Greek Yogurt –

 Use the full fat stuff. If you must, use 2% or low fat. Without mayo, the full fat greek yogurt keeps the dressing rich 

and

 creamy. It's high in protein, and will keep you 

satiated

. 

 

Tahini 

– This Middle Eastern condiment is a paste from sesame seeds. 

Tahini

 is super 

versatile

, and brings a slightly sweet, 

slightly

 nutty, 

slightly

 bitter 

flavor

 the the 

dressing

. You'll often find 

tahini

 in the foreign food section of your 

grocery store. 

 

Fresh Lemon Juice – This recipes uses about two full lemons (buy an extra just in case). The fresh lemon juice can't be beat. If you must, your

 can use the stuff in a jar from concentrate but 

I

 don't 

recommend

 it if you can avoid it. 

Nutritional Yeast

– You can typically find this in the baking 

section

 of your grocery store. It's a deactivated form of baker's yeast, and has a savory, nutty, 

almost cheesy flavor. It's super versatile and can be used in dressings, sauces, or sprinkled on a salad.
Garlic 

– One clove goes a long way! 

Parsley 

 – Flat leaf or Italian parsley both work fine! I like parsley's clean and peppery taste. 

Mixed Herbs

 – Use whatever you have on hand or whichever flavors you prefer. I typically do a mix of chives, cilantro, or basil. My only advice is to use 

something 

other

 than parsley to balance it out. 
Salt – I use Diamond Crystal

 Kosher salt for all of my recipes. If you're using Morton's kosher salt, double the amount of salt to taste (you can always add more, but you 

can't

 take the salt out!). 

Extra Virgin Olive Oil – A few tablespoons to thin out the dressing.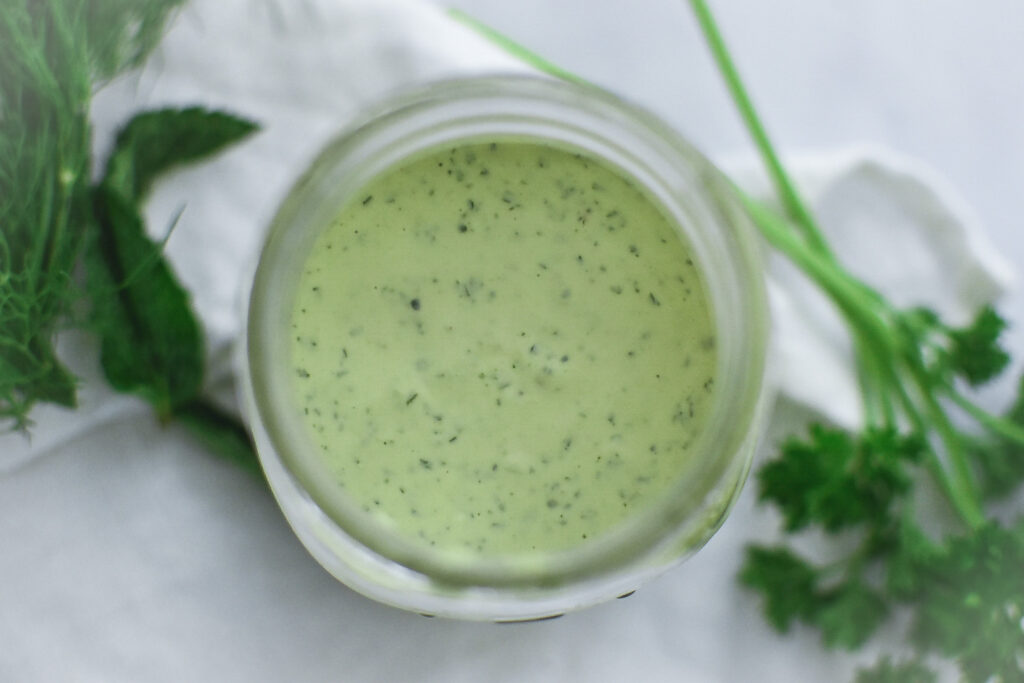 Modifications, Substitutions, and Questions:
Can I use dry herbs instead?

I don't recommend using dry herbs in this case. The herbs themselves actually add to the bulk of the dressing, and so if you swap them for dry, it would change the consistency.

Can I make it dairy free/vegan? Absolutely! Just use your favorite plain non-dairy yogurt instead 🙂
What can I use instead of nutritional yeast? I LOVE nutritional yeast and believe it's worth your money if you can find it. But if you must, use a tablespoon of soy sauce or 3 salty olives.
Thin out the dressing – If you like your dressing a bit more loose, add a tablespoon or two of water. Increase adding water until it is at the consistency you like.
Thicken up the dressing – If you want this to be more like a dip, add another 1/4 of greek yogurt. You may have to adjust the seasoning a bit.
How should I store the dressing? In an airtight container in the refrigerator the dressing will last for about a week. I recommend using a glass container. Plastic tends to hold onto smells.
Can I freeze the dressing? I have not tried freezing the dressing. Each of the ingredients separately can be frozen, but I am not sure how well it would hold up in the freezer.
Can I double the recipe? Yes! A little goes a long way in a salad, but this can easily be doubled for a larger batch.
Lemony Green Goddess Dressing Recipe
This is my favorite, healthy green goddess dressing recipe. Its lemony, creamy, aromatic, and has a slight nutty flavor from nutritional yeast and tahini.
Equipment
Food processor

(or blender)

Glass mason jar
Ingredients
1/2

cup

whole milk plain greek yogurt

1/2

cup

lemon juice

1/4

cup

tahini

1/4

cup

nutritional yeast,

sub 2 to 3 briny olives or anchovy filets

1/2

cup

parsley,

roughly chopped

1/2

cup

basel or mixed herbs like dill and cilantro,

roughly chopped

1

garlic clove

finely minced

1/4

teaspoon

Diamond Crystal Kosher Salt,

adjust to taste (see notes)

pinch

black ground pepper

3

tablespoon

olive oil

water as needed,

adjust to preferred consistency
Instructions
Add all of the ingredients to a food processor and blend until fully combined and smooth. Add additional water as needed to thin the dressing out to your liking.

Store the dressing in an airtight, glass container for up to a week in the refrigerator.
Notes
Recipe adapted from Oh She Glows Lemon Tahini Dressing 
Salt - I always use Diamond Crystal Kosher salt because I have it on hand. You can use fine ground sea salt but start with just a pinch and add more as needed. 
Vegan - Make this vegan by swapping out the yogurt for your favorite non-dairy plain yogurt.