These delicious chocolate coated pecan toffee bars will remind you of turtle chocolates – in bar form! A buttery shortbread is topped with homemade toffee, toasted pecans, and layered with chocolate. Be aware – these turtle bars are addictive if you have a sweet tooth. 
This is another winner recipe from King Arthur Baking Company. The recipe was published as Chocolate-Covered Toffee Bars, but I though it was more aptly named Turtle bars because that's exactly what it reminds me of.
I made these bars at the King Arthur Baking School's Raise the Bar class. Along with these bars, we also made Raspberry Jam Streusel bars and Coconut Lime Bars.
One bite into the flaky shortbread cookie, gooey toffee, and rich chocolate and you'll be back for more.
Rather than a traditional caramel, which is made with white sugar, this recipe calls for a more toffee-type filling made with a combination of brown sugar and honey. Best of all, NO thermometer required!
Chocolate Turtles
DeMet's Candy Company trademarked the name "Turtles" in the early 1900's. If you visit any candy counter, you'll be sure to see a variation of these delicious and under-appreciated chocolate creations.
Classic chocolate Turtles are made with pecans, topped with caramel and chocolate. They are called Turtles because of they are shaped a bit like a turtle (with a little head and two back legs).
What Makes Turtle Bars So Good
Unlike the candy counterpart, these bars can be sliced and shared!

The toffee is super easy to make and

requires

NO

thermometer!

The shortbread comes together in minutes – unlike other

shortbread

recipes that call for

multiple

flours, eggs, multiple sticks of butter, etc., this is a straightforward shortbread with minimal ingredients.

The layers of chocolate, shortbread, toffee, and pecan create a crowd pleasing dessert – perfect for gifts or a cookie tray!
Tips for Success: 
Use COLD butter. As with pie, it's best to work with cold ingredients for a nice flaky crust. 
For the shortbread, don't overwork the dough. You don't want to put the gluten strands into action. 
For the toffee middle, don't stir the sugar more than you need to. Constant stirring may cause the sugar to crystalize and separate. 
Toast the nuts! This will improve the flavor and texture. Plus, toasted nuts smell so good. 
Don't over-bake the dough! Remember, we're just par-baking the shortbread to start – it's going back in the oven a second time. 
Cutting/Serving – Let these bars cool completely before attempting to cut into them. I found that putting them in the refrigerator for 15 minutes or more helps. Use a clean, slightly wet knife to make large slices. 
Substitutions and Modifications
No Pecans?

Swap them for walnuts (pecans are preferable here!)

No Honey? Swap maple syrup. 
Salted Variation –

Sprinkle some 

sea salt

 over the chocolate. 

 
Chocolate  –

Feel free to add MORE chocolate (another 1/2 cup or so, otherwise you may risk 

it not melting).

 Swap the dark chocolate for semi-sweet, creamy milk chocolate, or white chocolate (or a combination!).

Other Toppings – Consider sprinkling some toffee bits, toasted chopped nuts, or toasted coconut on top of the chocolate. 
How to Store Turtle Bars
These bars will last stored in an airtight container stored at room temperature for up to two weeks (if they last that long).  
Freezing Instructions
To freeze, wrap the bars tightly in plastic wrap, and then again in tin foil or a freezer bag. To defrost, simply allow them to come to room temperature.
Other Bar Recipes from Raise the Bar Baking Class: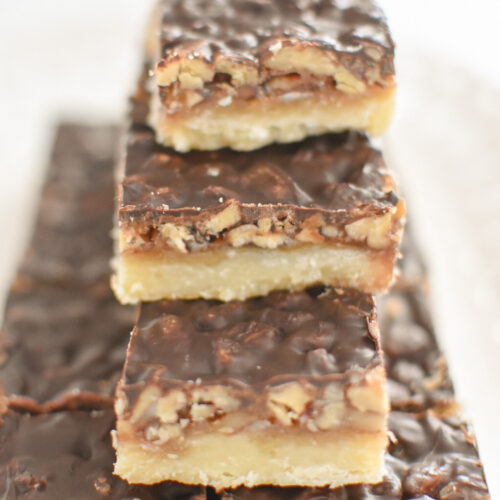 Turtle Bars
A buttery crust topped with layers of toffee mixed with pecans and finished with dark chocolate. Recipe adapted from King Arthur Baking Co. This bar recipe is easy and addictive.
Equipment
1 9 x 13-inch baking pan

Medium saucepan
Ingredients
Crust
1 ¾

cup

plus 2 tablespoons (225 g) all-purpose flour

1/4

cup

(50 g) sugar

1

teaspoon

Diamond Crystal Kosher salt,

see notes

3/4

cup

unsalted butter,

cold and cut into 1/2 inch diced pieces

2

tablespoons

(30 g) whole milk,

cold (more as needed)
Filling
1

cup

(213 g) brown sugar

3/4

cup

(170 g) unsalted butter

1/4

cup

(85 g) honey

2

tablespoons

(30 g) whole milk

1

teaspoon

Diamond Crystal Kosher salt,

see notes

2

cups

(227 g) pecans,

lightly toasted and finely chopped

1

tablespoons

(15 g) vanilla extract
Topping
3/4

cup

dark chocolate chips,

substitute semi-sweet
Optional
2

tablespoons

sparkling sugar
Instructions
Crust
Preheat your oven to 350 degrees Fahrenheit. Spray a 9 x 13-inch baking pan with non-stick spray. This recipe can also be made using two 8 x 8-inch baking pans (just divide the mixture evenly as you go along).

In a medium bowl, combine the flour, sugar, and salt.

Cut the butter into the flour mixture until it resembles a course meal. You should not have any large chunks of butter. Don't overwork the butter so it melts, you want to keep it cold. so the bars stay nice and flaky.

Stir in the milk until the mixture is combined. It will be dry, but still hold together when you squeeze it between two fingers. If the dough is not holding together you can add a dash more milk as needed.

Press the dough firmly and evenly into your prepared pan, smoothing it out with your fingers or the bottom of a measuring cup. Dock the dough gently with a fork (see notes). Cover the dough in the refrigerator for at least 15 minutes.

Bake the base for 15 to 20 minutes, or until just set and starting to brown around the edges (aka par bake). Remove the base from the oven and set it aside to cool.
Filling
In a medium saucepan, bring the brown sugar, butter, honey, milk, and salt to a boil over medium heat. Allow the brown sugar to melt before you start moving it around. Don't over-mix the sugar as it melts. Cook until the sugar is dissolved and the butter has melted, stirring occasionally. Remove from the heat.

Stir the pecans and vanilla into the sugar mixture. Spread the toffee filling evenly over the baked base.

Bake the toffee layer for approximately 15-20 minutes, until golden brown and bubbly.
Topping
Remove the bars from the oven and sprinkle evenly with chocolate chips over the baked toffee layer.

Let the bars stand for approximately 5 minutes. Using a bent spatula, smooth the chocolate to cover the base completely. It is ok if some of the base is showing.

Allow the bars to cool at room temperature for approximately 2 hours until they are completely cooled. If you cut the bars too early, they will not be set.

Store the bars in an airtight container for up to two weeks or in the freezer for up to 3 months. See notes for freezer instructions.